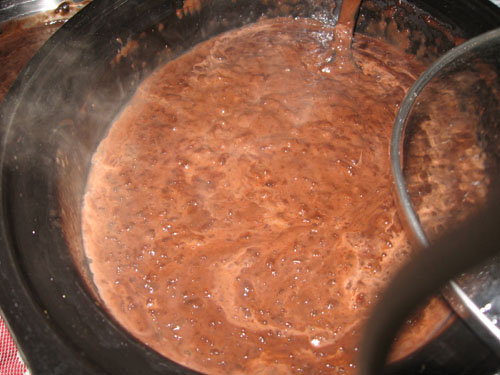 One of the most popular Filipino breakfast fare is the Champorado (chocolate rice porridge) but it can also be a comfort food during rainy days. The original champorado recipe is made with soft-boiled rice and flavored with Tableas de Cacao which are bitter-sweet chocolate tablets made of freshly roasted chocolate mixed with milk and sugar. Champorado is usually served with a side dish of fried or smoked seasoned meats. I prefer to eat it with danggit (dried fish from Cebu). Childhood memories of eating champorado involved pouring evaporated milk in circles over the bowl of champorado. Just thinking of it makes me feel so warm. I found out about Antonio Pueo's Double Chocolate champorado mix and it taste just as the original recipe. The "made with real Spanish chocolate" is very true. It's quite handy to have this champorado mix around during the rainy days.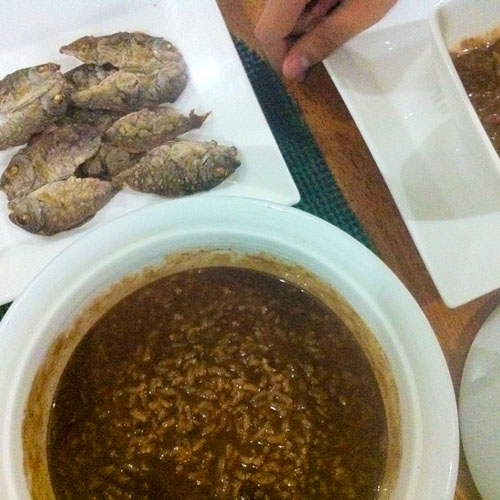 If you want to make your own champorado, here is my recipe:
4 to 5 pieces of unsweetened Tablea boiled in 1/2 cup water (melted)
1 cup rice
2 1/2 cups water
1/2 cup brown sugar
Procedure
1. Cook rice in a saucepan with water.
2. Stir constantly.
3. When rice is a bit transparent , add the melted tablea and sugar.
4. Cook until rice is tender. Adjust sugar to taste. If rice mixture is too dry, add a little more water. I prefer my champorado to be a bit soupy.
5. Serve in a bowl and place swirls of evaporated milk on top.
I love eating champorado with dried fish or tuyo. What would you add to your champorado?