My kids love to snack on French fries, whether it be from their favorite fast food chain or lovingly prepared at home.  The latter takes time to prepare as I cut potatoes into slices. Well, did you know that the best quality frozen potatoes are from the United States Potato Board (USPB)? They come in straight-cut, wedges, natural crisp (chips), slices, twister fries, hash brown and basket weaves and crinkles. How convenient for busy moms . I am convincing family member that French fries don't need to  be eaten alone or during snacks. There are hundreds of innovative and healthy ways and reasons to make potatoes part of your dinner aside from rice and pasta.
USPB Partner Restaurants
I thought of getting recipe  inspiration from USPB Partner Restaurants like Sunrise Buckets and Peri-Peri Charcoal Chicken both located in Greenhills. First stop was Sunrise Buckets located at Madison Square, Ortigas Ave. North Greenhills, San Juan.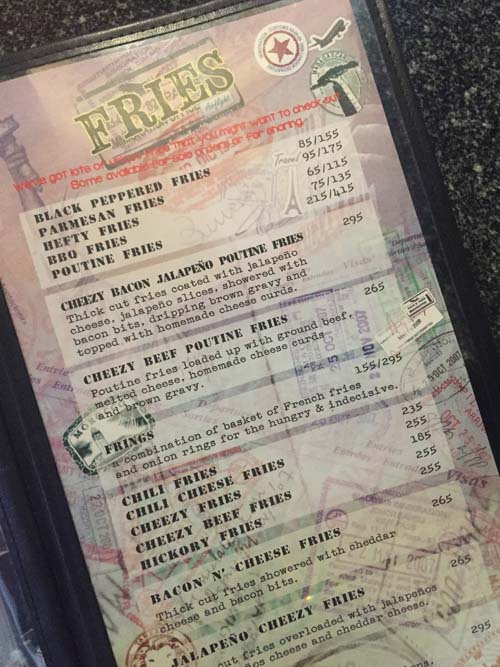 Sunrise Buckets is a cozy restaurant giving you that feeling you are by the beach.  They offer a wide array of dishes but I wanted to see how they incorporated French Fries into their menu.  Though they offered  French fries dipped with flavors,  two  preparations caught my attention:
1. Cheezy Bacon Jalapeño Poutine Fries- Thick cut fries coated with Jalapeño cheese,  Jalapeño slices, showered with bacon bits, dripping brown gravy, and topped with homemade Cheese curds.
2. Cheezy Beef Poutine Fries – Poutine fries loaded with ground beef, melted cheese, homemade cheese curds and brown gravy.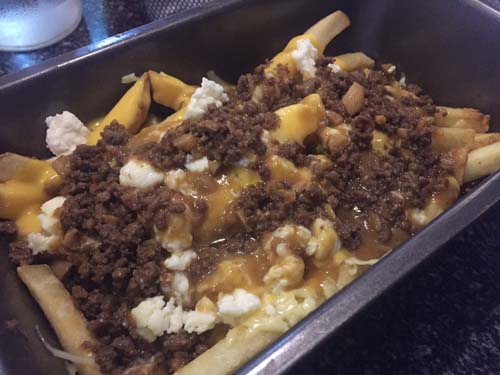 I chose the latter because it reminded me of my comfort food– Mexican taco mix without the Jalapeño.  I loved the cheesy flavors mixed with the fries, just like how  melted cheese pairs with nacho chips.  This is an innovative idea. Instead of nacho chips, use french fries. Too much of the brown gravy though , caused the French Fries to get soggy.  They could have minimized the brown gravy or offered it separately. It tasted so good. Would you believe I finished the whole dish by myself?
My next stop was the  Peri-Peri Charcoal Chicken located at the 2/F Cinema Level Promenade, Greenhills San Juan Metro Manila.  They offered a similar dish that I ordered at Sunrise Buckets. The Patatas Bravas are crisp fries served with homemade sauce and melted cheese. This recipe must have been inspired from the Italian's Bolognese pasta.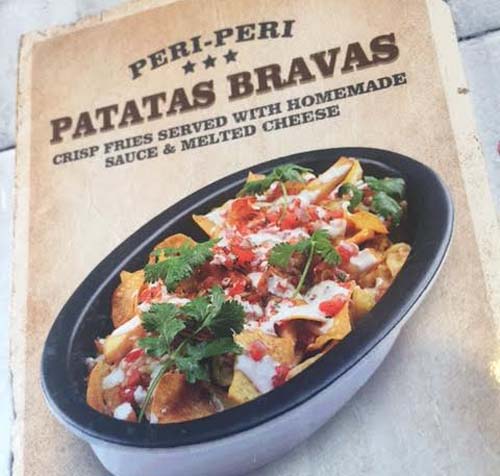 Bolognese sauce was poured over a bed of French Fries and basket weave potatoes.  Instead of pasta, potatoes served as a substitute. I would have loved the Cilantro which was missing with my order.  What I like about their potato dish creation is that the fries did not end up soggy .  The flavors were a bit disappointing, as the  Bolognese sauce tasted bland . It would have tasted better if they added ground beef with a dash of thyme and oregano.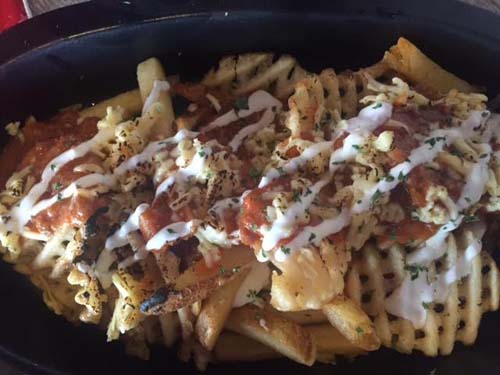 Recreation of the Potato Dish
The visit to these two restaurants inspired me to recreate the best of their Potato creations. Let me call my version, the Cheezy Beef Patatas.  I will combine the flavors of Sunrise Buckets' Cheezy Beef Poutine Fries and the presentation of the chips and fries from Peri Peri's Patatas Bravas. I want to avoid the sogginess of the French Fries by mixing part of the brown gravy into the ground beef. The brown gravy will be served separately and added as needed. This will prevent the sogginess. French fries or chips should still be firm when mixed with any sauce.
I bought the frozen French Fries and basketweave at Shopwise. You can also find frozen potatoes at the SM Supermarkets and Pure Gold. Make sure you are buying frozen potatoes  from USPB or with partner brands like LambWeston or those stamped as grown in the USA.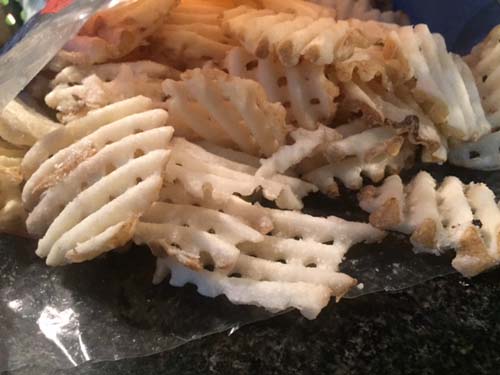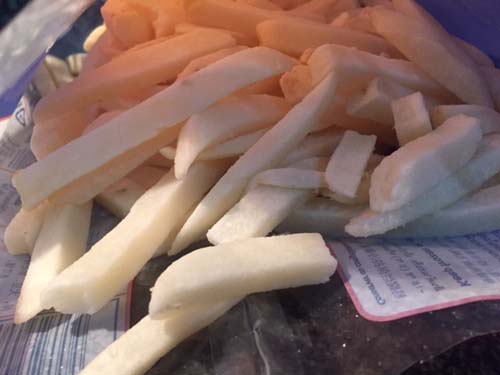 Ingredients:
200 grams USPB Frozen French Fries
100 grams Basket Weave  (or criss cut or waffle cut fries)
1/4 kilo ground beef
1 chopped onions
1 head garlic
Cottage cheese (for topping)
Cilantro (for topping)
For the melted Cheese sauce:
2 tablespoons unsalted butter
2 tablespoons flour
1 cup milk (1/2 cup evaporated plus 1/2 cup water)
1 box cheddar cheese (165 grams)
1/4 teaspoons salt
For the brown gravy
¼ cup unsalted butter
¼ cup flour
1 teaspoon onion powder
2 cups water
2 beef cube bouillons
DIRECTIONS:
A. Prepare melted cheese and the brown gravy.
Melted cheese sauce preparation: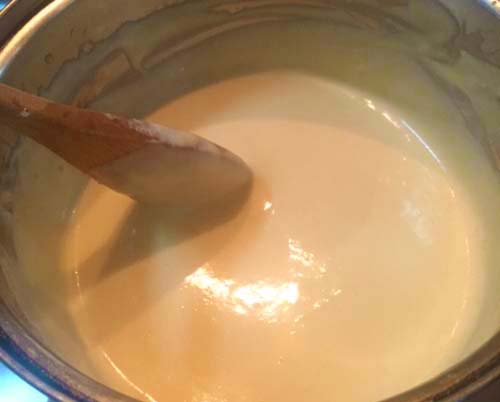 I used this nacho cheese recipe but modified it a bit.
1. Melt the butter over medium-low heat in a saucepan.
2. Whisk in the flour one tablespoon at a time to avoid clumping.
3. Add the milk after the flour has settled. Mix until the sauce has an even consistency.
4. Add the cheese and salt. After the cheese has melted, turn the burner to low, and allow the sauce to simmer for 10 to 15 minutes.
Brown gravy preparation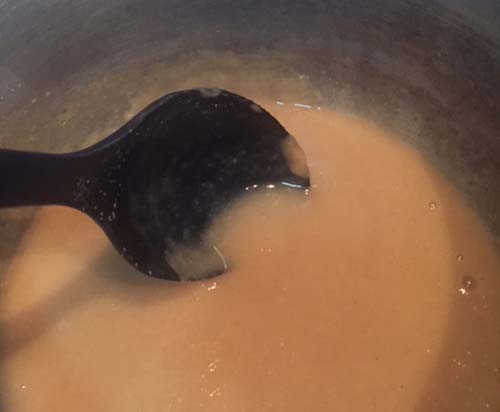 This simple 5 ingredient recipe for brown gravy was taken from here but you can also buy those gravy mix at the grocery shelves if you want to simplify your cooking.
1. Combine water and bouillon in a glass measuring cup.
2. Heat the beef broth in microwave for 1 minute at a time, until it is steaming hot.
3. Melt butter in a medium saucepan over medium heat, add flour and onion powder and whisk together.
4. Allow to cook for 1 minute, whisking occasionally .
5. Add beef broth to flour mixture and whisk.
6.bBring to boil, reduce to simmer for 1 minute.
B. After the cheese sauce and brown gravy have been cooked, just set it aside .
C. Saute the ground beef with onions and garlic till it is brown. Season with black pepper and salt.
D. Pour a little brown gravy onto the ground beef.
Make sure to leave brown gravy for additional dipping sauce.
E. Bake the French fries and Basket Weave cut fries  till desired crispiness.
Make sure they are arranged well on a baking dish for even baking. (Since I have a convection oven, I prefer to bake the French Fries and Basketweave Fries. It is healthier that way. Baking time for the 200 grams potatoes reached 16 minutes. )
G. Arrange baked French Fries and Basket Weave cut fries  on a serving dish.
Top with ground beef mixture, melted cheese sauce, cottage cheese , enough brown gravy and spice up the color with the Cilantro leaves.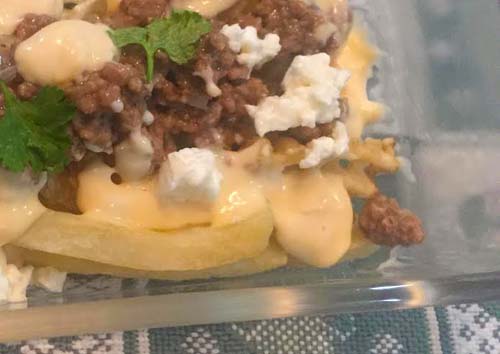 It's a dish in itself. You have the protein, carbohydrates and some veggies.  Try it.
Other recipe ideas for Pinoy Cooking
Now you wonder, what else can  you do with your frozen potatoes other than as a snack.  Let me present two dish ideas that uses frozen potatoes.
1. Adobo with Potatoes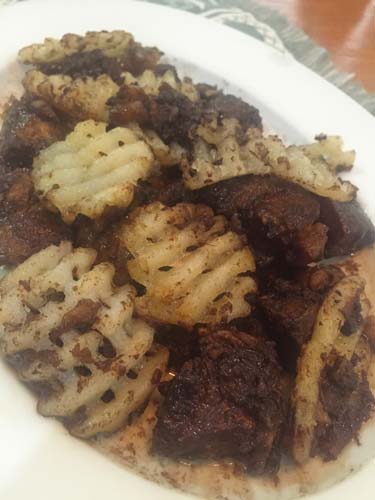 There are many ways to cook adobo and it varies with the region.  When styling adobo, I usually have a problem making it look attractive.  It's just dull brown unless I arrange the adobo on an attractive platter. Adding garlic to the brown colored dish, gives it a bit of zest.  I've seen an Adobo variation with the addition of  Potato wedges. I think adding Basket Weave cut fries to the Adobo is not only attractive; it brings a well balanced flavor.  The potatoes absorb excess salt , and vinegar making it as delicious as the adobo meat.
– Cook this classic adobo recipe .
– Fry eight pieces of Basket Weave fries so it is not fragile when added to the adobo.
– Add  fried basket Weave cut fries when the liquid has been reduced. Toss lightly with the Adobo sauce.
2. Pinoy Style Frittata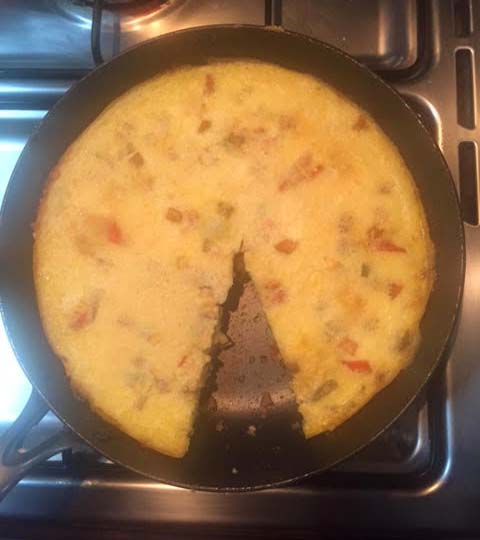 The Frittata is an Italian dish made with fried beaten eggs, resembling a Spanish omelet. This is the perfect dish to whip up when there are unexpected guests because it can be done in 30 minutes . What I love about Frittata is that it makes use of leftovers like ground beef , sausage or bacon.  Adding potatoes will complete the meal that includes carbohydrates, protein and vegetables. The Frittata is a meal in itself with the diced potato (from Frozen French Fries )  as the Carbohydrates.
The recipe will be shared in the next post. Watch out for it
Enjoy experimenting with USPB frozen potatoes in your kitchen. You can buy frozen US Potatoes at the supermarkets of SM Malls, Rustans, Shopwise, Pioneer Center, Duty Free, Puregold Subic, Puregold Clark.