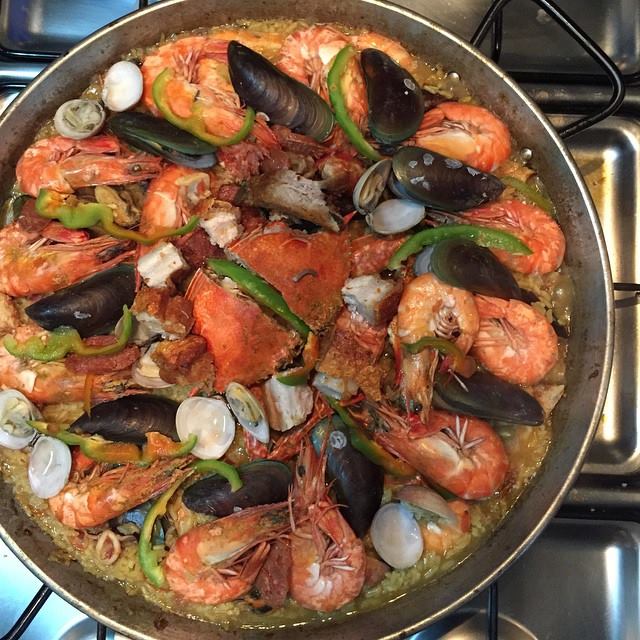 I very rarely prepare Paella because it entails so much preparation. Twenty five years ago, my sister shared me this Paella, Filipino Style recipe and it seemed simple to prepare. Until a year ago, that's the only Paella recipe I ever cook. Apparently, the recipe is just similar to Paella a la Valenciana, the difference is in some ingredients. Paella is tasty because of the flavors that seep through the rice grains from all the ingredients mixed into the rice. Paella a la Valenciana is just as similar in taste as my Paella, Filipino Style. The Paella a La Valenciana recipe I am sharing is not exactly the same as the original recipe from the typical, rich rice dish from Valencia, Valencia happens to be located on the east Mediterranean coast of Spain. Even though one can taste this rice-dish all over Spain and even world-wide, its true origin is the area of Valencia and Alicante.
Ingredients
1/2 kilo pork tenderloin
500 grams chicken breast
1/2 kilo large shrimps
salt and pepper
1/2 cup Olive Oil
3 large sized crabs
2 cups clams (halaan)
1 cup mussels (tahong)
1/2 teaspoon of sweet red paprika
4 cloves garlic, chopped
1 onion, chopped
1 green or red bell pepper, sliced into 1 inch pieces
1 cup string beans (sitaw), sliced into 1 inch pieces and blanched
3 chorizo de bilbao, sliced thinly
3 cups rice, American Variety or long grain rice (I also use Japanese rice)
1 can tomato paste ( around 70 grams)
6 cups clam broth (used for boiling the clams)
1 small laurel leaf
salt and pepper for seasoning
1/4 teaspoon saffron , mixed with 1 tablespoon water
1 cup green peas
1 pieces pimiento (cut into 1 inch squares)
2 hard boiled eggs, sliced for topping
(Tip: You can also add chopped lechon as toppings)
Directions
Preparation of the chicken, pork and seafood
1. Cut chicken and pork into 1 and 1/2 inch pieces. Brown in olive oil. Set Aside.
2. Shell shrimps leaving tail. Slit the shrimps at the back and remove black veins. Wash shrimps and dredge with salt and pepper. Brown in olive oil. Set aside.
3. Boil crabs and cut into quarters. Crack shells of the crab claws. Set aside.
4. Boil the clams in around 6 and half cups water and remove the top shells. Set aside the clam broth.
5. Boil the mussels. Set aside.
Time to cook
1. Heat olive oil in the pan.
2. Add the chicken, pork, paprika, garlic, onion, pepper and chorizo de bilbao.
3. Toss for a few minutes and add unwashed rice and stir until the rice is just a bit brown.
4. Add tomato paste, 6 cups clam broth, laurel leaf and salt and pepper to taste.
5. Add shrimps then bring to a boil.
6. Add the saffron and water.
7. Transfer to a big casserole (usually a pyrex dish) and bake for 350 F for around 30 minutes.
8. Uncover the casserole and decorate the top with clams, crabs, mussels, sitaw, green peas, pimiento on top.
9. Cover and cook for 5 more minutes.
10. Decorate with slices of hard boiled eggs.
Serves 12
You may also prefer to cook my special Paella, Filipino Style