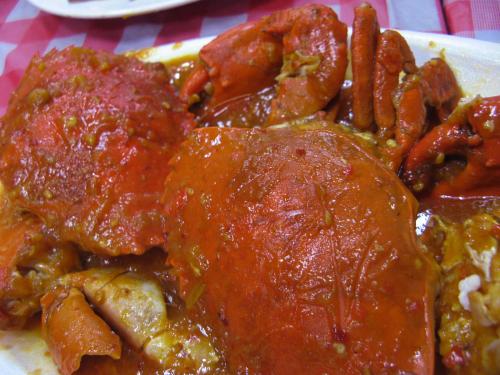 Tsiju Culinary Arts shared this Singapore Chilli Crab recipe which is one of the most popular dish in Singapore hawker centers. It is sometimes known as Singapore's unofficial "national dish" which had its humble beginnings in the country itself. In the 1950s, Madam Cher Yam Tian had a hawker stall right on the seashore, and she spent her time everyday from dusk till the wee hours of the morning cooking by the light of a kerosene lamp. One of Madam Cher's specialities? Live crabs in a zesty chilli-spiked gravy, the first version of the Singapore chilli crab.
The recipe looks simple but I still have to try it. Just substitute the ingredients that I noted in the closed parenthesis.
Ingredients
1 Sri Lanka Crab (of course use our local crabs, the bigger the better)
3 tbsp. Canola oil
8 cloves garlic, chopped
8 fresh chili, chopped
2 eggs
2 spring onions, sliced
1 ginger, grated
2 tablespoon lime juice (or substitute with calamansi or lemon juice)
2 tabsp sugar
4 tbsp ketchup
1 teaspoon cornflour (substitute with corn starch)
1/4 teaspoon sea salt
Mix the following for the sauce
1 cup water
4 tablespoons ketchup
2 tablespoons sugar
1 teaspoon cornflour
1/4 teaspoon salt
Method
1.Heat the oil in a wok over high heat.
2. Add garlic and stir-fry for 1 minutes.
3. Add the chilli, stir-fry till fragrant and then the crab.
4. Fry well till shell starts turning red.
5. Add sauce ingredients.
6. Cover with lid and simmer.
7. Break eggs. Stir in spring onions and lemon juice.
Ready to serve.
The dish has evolved into many innovations:
1. some are packed with fresh spices like galangal, ginger, and turmeric,
2. some are sweet-sour and rosy with tomato, others are ribboned with beaten egg, and still others carry the sting of chilli oil.
So you can also try to innovate the Singapore Chilli Crab recipe and make it your very own.
You might want to read my food trip at the Singapore Food Festival five years ago.
or just view this youtube video