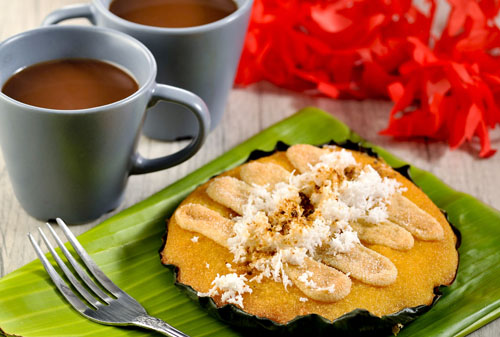 I know there are many frustrated bakers out there. While I can bake from scratch, I also want to inspire future bakers. First-timers need not be frustrated. They can start out with cake mixes for inspiration to see if baking is their kind of thing. You can even call it your very own cake for the holidays. Bibingka is traditionally eaten during the Christmas season and it gives such a festive touch to the holiday season. I love the unique aroma of toasted banana leaves. You can try this holiday favorite, Bibingka with pastillas. Sounds yummy!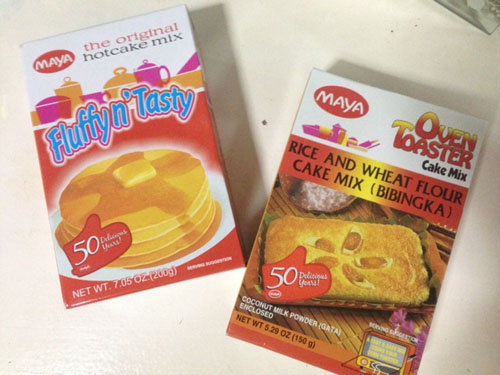 The pastillas in this recipe calls for MAYA's "Fluffy n' Tasty" Hotcake Mix while the Bibingka is made out of MAYA Oven Toaster Bibingka Mix (rice and wheat flour mix). Inside the box of the bibingka mix is coconut powder. You don't even need an oven to bake the Bibingka de Pastillas. I will experiment with these cake mixes soon so I will update this post. Do try it out. Just remember that in baking, exact measurements are necessary. Make sure you have baking teaspoons and cups which you can buy at the supermarket. The dinner cups and spoons are not accurate measurements for baking.
Now if you were looking for a Bibingka recipe to prepare from scratch, check this recipe on Special Bibingka and Bibingka Royal .
Pastillas:
1 ¼ cups MAYA Original "Fluffy n' Tasty" Hotcake Mix, lightly toasted
1 ¼ cups powdered milk
1 can (300 ml) condensed milk
1 teaspoon melted butter
sugar for coating, as needed
Bibingka:
1 pack MAYA Oven Toaster Bibingka Mix 150g
1 egg
1/3 – ½ cup water
1 tablespoon melted butter or margarine
banana leaf
Here's the procedure.
Prepare pastillas. In a bowl, combine lightly toasted hotcake mix, powdered milk, condensed milk and butter until well mixed. Form mixture into long thin logs, about 5 inches long, and roll in sugar. Set aside.
Prepare bibingka.
1. Pass the banana leaf over medium flame until wilted. Cut into a circle big enough to line the bottom and sides of a 6.5-inch round bibingka pan. Set aside.
2. In a bowl, combine the bibingka mix and all of the contents of the coconut milk powder in sachet pack. Blend well.
3. Add the egg, water and melted butter. Beat with a wooden spoon until smooth.
4. Pour into the prepared pan. Remove the oven toaster tray and place the pan directly on the oven rack. ( I did not use my oven toaster. I used my Samsung oven)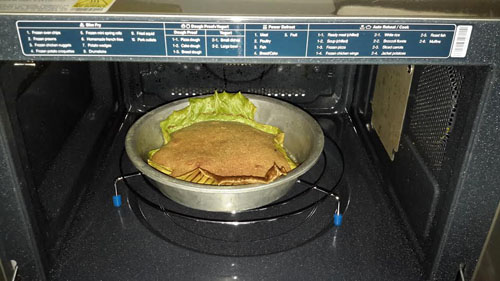 5. Bake in the oven toaster for 7-8 minutes or until the top is firm to the touch and lightly browned.
6. At this point, arrange pastillas strips on top then return to the oven toaster to cook for an additional 2 minutes or until golden brown. Serve while still hot.
Yield: 4 servings
NOTE: Leftover pastillas may be wrapped in cellophane and paper for later consumption.
I tested this out myself. The photo below is not as nice as the stock photo that Maya sent me.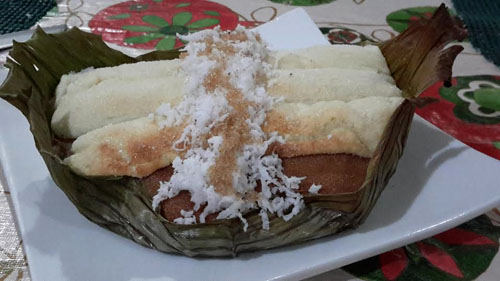 Of course, I wanted to taste it and the texture of the cake is not as airy or spongy as some bibingkas I eat in restaurants. The color of the bibingka is almost beige. I think it is because the Bibingka mix contains wheat cake flour. But it is delicious! Try it.