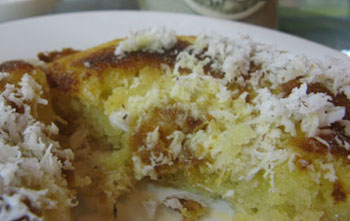 Mommy used the book, "Recipes of the Philippines," compiled and edited by Enriqueta David-Perez as her guide for making her Bibingka recipes. Bibingka reminds me of those early bakeshop days in the early 1970's when my sister and I had to help grind the rice into "galapong" and dump them into clean plastic pails, knowing (by smell) the difference between fresh and rancid galapong. Mommy also taught us how to pre-mix the "secret" part of the recipe (the combination of dry ingredients) which was stored in plastic bags at the locked stockroom in the "dirty kitchen."
Mommy was also one of the first advocates of ALMEDAH Food Machineries Corporation since the famous inventor himself, Benjamin Almeda Sr., taught Mommy how to use his bibingka machines. I used to accompany Mommy whenever she visited Mr. Almeda in Manila.
The Sally's Bake Shop Counter at Cebu Foodarama was the initial testing ground of the hot-off-the-machine Bibingka. So you see, we can be very proud that we were early innovators in Cebu's bakeshop industry.
My brother, Oscar picked up the Bibingka habit many years ago for his "Oca's Lechon Manok" business. Pamping, his trusted right-hand, practically knows the Mandaue-style Bibingka that I love — with its honest-to-goodness coconut-ty richness. He had also visited the Almeda family and apparently, bought a lot of bibingka machines.
Before he passed away, Oscar asked Lorna if I could re-introduce the Almeda's Bibingka Machine in the US. Lorna hasn't found the time to visit them. Maybe, this time, we'll pick up the 'Bibingka" habit. I don't know if my sister and I will eventually own a bibingka machine — to honor Mom and Oscar. Who knows what magical recipes we can churn from this.
Here is the recipe that Mommy based her own Bibingka recipe. You can experiment it right at your home kitchen just so can configure it to your taste.
3 eggs
3/4 cups sugar
1-1/4 cups coconut milk
2 cups all-purpose flour
4 tsps. baking powder
melted margarine, almost at room temperature (as long as it doesn't solidify)
grated cheese
1. Beat the eggs well until light and creamy.
2. Dissolve the sugar in 1/2 of the coconut milk.
3. Mix and sift dry ingredients and add by spoonfuls to sugar and coconut milk mixture.
4. Add the rest of the coconut milk alternately with the dry ingredients, starting with the dry ingredients, and ending with the dry ingredients. Beat well. Add the well-beaten eggs and melted margarine.
5. Line four small round pans with banana leaves. Pour mixture into pans, spreading it thin and evenly.
6. Bake in a pre-heated hot oven (375 F). When cooked, brush the top with butter and sprinkle with grated cheese and sugar. Serve with grated coconut.
Watch out for future Bibingka recipes such as Bibingka Especial, Bibingkang Malagkit, Bibingka Pinipig, Bibingkang Galapong.