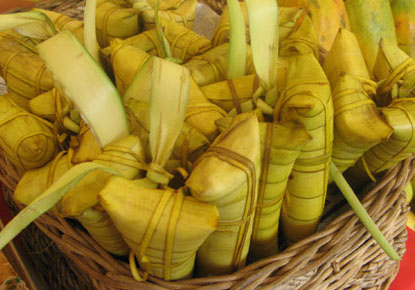 Preparing Suman sa Ibus is so easy. It's the wrapping of the rice mixture which takes so much time. Yet it is all worth it. How I love the mild flavor of the suman. The delightful combination with ripe yellow mangoes and hot tsokolate is heavenly.
Ingredients
4 cups sticky rice or malagkit
3 cups thick coconut cream (here's how to prepare Thick Coconut Cream)
1 Tablespoon salt
Tube-like containers made of young coconut leaves shaped into cylinders about 3 centimeters in diameter and 10 centimeters long. I can't explain how to prepare the ibus for the suman but here is how to prepare .
1. Fold the end of the buri leaf by 1 ½ inches.
2. Fold the bottom edge into a triangle.
3. Start rolling up the buri leaf in an
overlapping manner.
4. Roll up the buri to make a tube.
How to prepare the Suman
1. Mix the malagkit or sticky rice, thick coconut cream and salt all together.
2. Fill the prepared ibus with the mixture from number 1.
3. Close the end of tube with a toothpick which you can take from the midrib of the coconut leaf.
4. Tie with buri strips.
5. Arrange in a large saucepan and cover with water.
6. Boil until cooked for about two to two and a half hours.
7. Untie and Unwrap.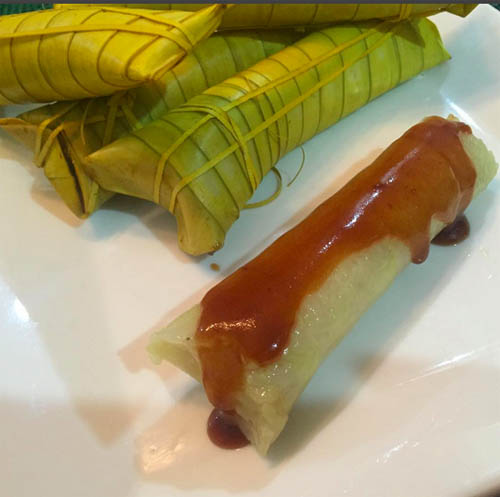 Best served with coco jam , hot tsokolate and ripe mangoes.