How do you usually cook Tinola? As described in Wikipedia, Tinola is "a dish is cooked with chicken, wedges of green papaya, and leaves of the siling labuyo chili pepper in broth flavored with ginger, onions and fish sauce. A common variant substitutes pork for chicken, chayote instead of papaya, or moringa leaves known as marungay or malunggay or kamunggay (in Cebuano), instead of pepper leaves" . It is a comfort food for my kids.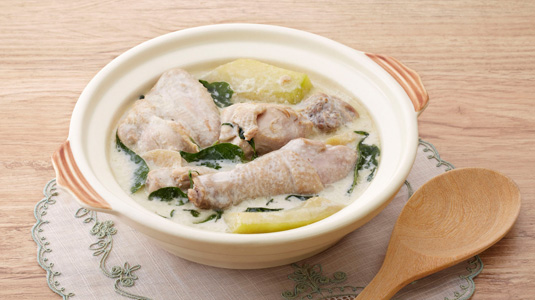 But did you know you can also add Gata (coconut milk) for some zest?  I love how Tinola sa Gata tastes. It reminds me of Chicken adobo with gata but this is more soup-y. I got this idea from  a recent Knorr Sarap #LutongNanay, celebrity-moms did a cooking demonstration of well-loved Filipino dishes. Dimples Romana cooked Tinola sa Gata for us.  She was just not a celebrity mom because she knew how to cook with confidence. Knorr is determined to make mom-cooked flavor matter again by inspiring people to cook more at home. I have always believed in home-cooked meals.  It creates conversations at the table and brings family members together by preparing meals together.  The aroma in the kitchen will create life-long memories that will be forever etched in our child's brain.
The readers in this blog know the importance of home-cooked meals. Recipes don't need to be complicated. Try cooking Tinola sa Gata for your family. It is so simple.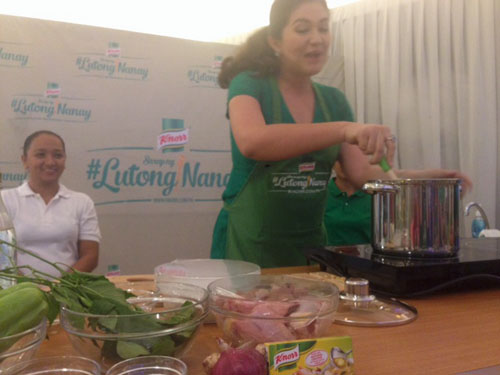 INGREDIENTS
1 tbsp oil
1 pc. onion, quartered
1 (2-inch) pc. ginger, sliced
½ kg. chicken, cut into serving pcs.
1 tbsp patis
1 cup gata
1 cup water
1 pc. sayote or ¼ pc. papaya, cut into wedges
1 pc. Knorr Chicken Cubes
½ bunch dahon ng sili
DIRECTIONS
1. Saute onion and half of the ginger in pre-heated oil for 2 minutes. Over high heat, add chicken and saute for a minute. Add fish sauce and mix well.
2. Add sayote. Pour gata and water, add remaining half of the ginger. Let this simmer for a minute.
3. Add Knorr Chicken Cubes. Let this simmer until chicken and vegetables are cooked. Add dahon ng sili, let the sauce simmer for another minute and serve.