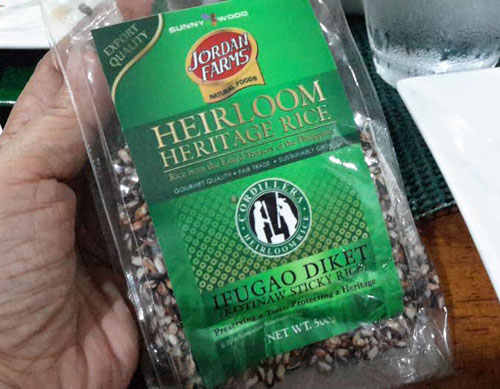 It is good to know that there are corporations that help in fair trade. Sunnywood Superfoods Corporation started operating as a single proprietorship in September of 1997 supplying branded rice to consumers in the supermarkets. Through the years, the company has grown from a beginning where only nine items were sold in the markets, to one that supplies a wide range of exciting varieties like Kalinga Unoy, Tinawon Fancy, Ifugao Diket, Ulikan Red and Mountain Violet Sticky rice. Ifugao Diket rice is cooperatively grown by family farmers in the municipalities of Hingyon, Banaue, Hungduan, Mayoyao, Kiangan, Asipulo, and Aguinaldo.
This is the Ifugao Diket under the brand name "Jordan Farms". This is a fat sticky rice, light purple in color with a slight barley flavor. This is excellent to use in salads, puddings and all sweet dishes. I like the idea of helping our farmers. The rice is hand-harvested in the high elevation terraces surrounding Banaue, Ifugao, a designated UNESCO World Heritage Site. If you have plans to prepare some kakanin dishes, consider the heirloom rice from the family farmers .
I already tried tasty biko from Violet sticky rice. You can prepare Ifugao Diket Rice Pudding: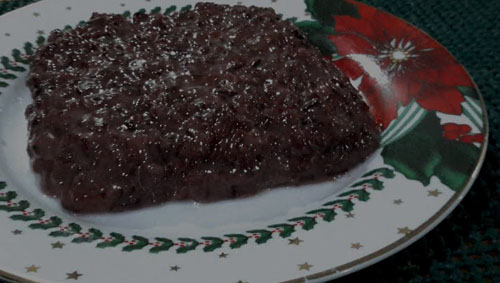 Ingredients:
1 cup Ifugao Diket
2 cups water
2 cups coconut Cream
1/2 cup white sugar
Garnish
1 cup coconut sugar
1/2 cup water
Fresh mangoes
Procedure
1. Wash and drain rice twice. In a saucepan, add water and soak for 30 minutes to one hour
2. Cook the rice until tender.
3. In a separate saucepan, simmer coconut cream and sugar until sugar is dissolved.
4. Add the cooked rice and stir. Continue cooking in low fire until mixture is creamy and the coconut cream is well absorbed. Don't let it dry up as it will further set when cook.
5. Make the garnish; Boil water and coconut sugar until it turns into syrup.
Get gourmet this Christmas! Call then at 02- 5354060 for delivery. Also, check out their facebook page: https://www.facebook.com/SunnywoodPH or their website sunnywoodrice.com. Contact them for more details.
In Metro Manila, the product is available at the supermarkets such as:
1. Landmark Supermarkets
2. SM Savemore and Hypermarket
3. Robinsons Supermarkets
4. Rustans Supermarkets
5. WalterMart
6. Puregold
7. Shopwise