Who doesn't want to live a healthy life? As we get older, certain diseases come up. For instance, I am a diabetic. I am now careful with my choice of food. It also helps to be creative
Maya Kitchen recently organized a highly informative lecture and demonstration of the mother-and-son tandem of Blecenda Miranda Varona, DRPH, MPH, RND and Mark Miranda Varona, RND. The topic "Prevention and Control of Diabetes, Heart Disease, Hypertension, Cancer, Stroke and Arthritis through Dietary Modifications." may prove to be interesting to health-conscious netizens. Don't wait for disease to strike you.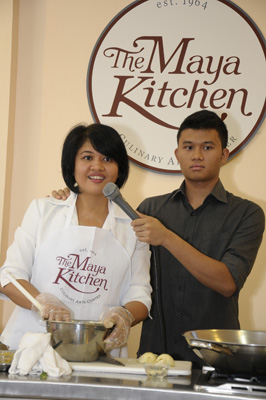 Blecenda Varona , a Nutrition and Lifestyle consultant is also the author and co-writer of "Healing Wonders of Diet, Smart Cooking, Vegetarian Cooking Laboratory Manual" and "Succulent Vegetarian Workbook". She is often sought for lecturs and as resource speaker as well as a researcher in her field. Her son Mark now works as a nutrition consultant in the family's own NeedHealth Nutrition and Lifestyle Consultancy.
The class focused on the wise choice of food and its right preparation can bring anyone optimum health. Who says healthy food tastes bland?
Here are five ways to prepare for "The Healing Diet": the Fruit Blend Detox, Malunggay Pancake, Basic Tofu Quiche, Eggplant Szechuan Style and Soyannaise.
TOFU QUICHE
Ingredients (use vegan versions)

½ kilo tofu, mashed
½ cup broccoli, chopped
1 big onion, chopped
3 tablespoons coconut oil
1/ 4 tablespoon turmeric
½ tablespoon mustard
3 tablespoons lemon or calamansi extract
2 tablespoon soy sauce
1 9-inch raw pie shell, unbaked
Mushroom powder to taste
Salt to taste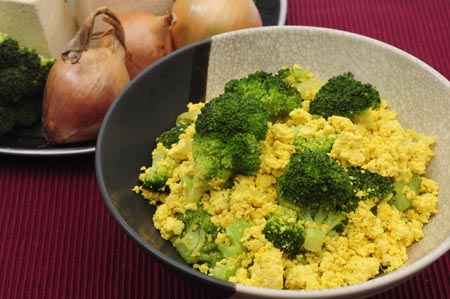 Directions
1. Saute onion in coconut oil.
2. Mix in tofu, turmeric, mustard, calamansi extact, and soy sauce then season with salt and mushroom powder.
3. Put broccoli of pie shell and pour in mixture.
4. Bake at 200 degree C for 12 to 15 minutes.
PAKO SALAD WITH SOYANNAISE
2 small bundle pako, washed, removed from hard stalks
3 pieces sliced tomatoes
1 small onion, sliced
3 pieces calamansi extract
3-4 tablespoons brown sugar
· Mix calamansi extract and brown sugar well. Slowly toss all ingredients. Serve immediately.
Soyannaise:
1 small block tofu
2 segments garlic
¼ cup corn oil
1/8 cup lemon or calamansi extract
1 small onion
dash of salt
Blend all ingredients together until smooth and creamy. On a platter, arrange vegetables
EGGPLANT SZECHUAN STYLE
(Good for 6 persons)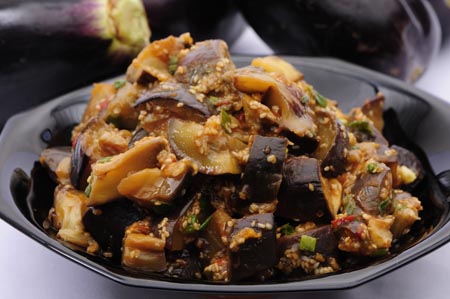 ¾ kilo eggplant
4 long green onions
2 teaspoon hot bean sauce or chilli sauce
1 tablespoon soy sauce
1 tablespoon calamansi extract
1 tablespoon water
1 clove garlic, finely chopped
2 teaspoon fresh ginger, minced
5 tablespoon coconut oil
½ cup water
1 teaspoon oriental sesame oil
1 ½ teaspoon sugar
4 tablespoon sesame seed, roasted- golden brown
1. Cut eggplant into 2X1/2 inches.
2. Separate 1 green onion and cut into thin slices. Reserve for garnish
3. Cut remaining onion into thin slices and combine with garlic, ginger and hot bean sauce in bowl. Set aside
4. Combine ½ cup water, soy sauce, calamansi extract, and sugar in another bowl. Set aside.
5. Heat 2 tablespoons vegetable oil in a skillet over medium-high heat.
6. Add half of the eggplants and cook for 5 minutes. Stir until soft and moist. Drain in colander.
7. Repeat the two immediate procedures above for the remaining eggplants.
8. Heat the remaining 1 tablespoon coconut oil in skillet.
9. Add the onion-garlic mixture and stir for 30 seconds.
10. Add the soy sauce-sugar mixture.
11. Bring to a boil stirring occasionally until liquid has almost evaporated.
12. Add diluted cornstarch. Stir until sauce boils and thickens slightly.
13. Stir in sesame oil and add sesame seeds.
14. Garnish with reserved onion slices.
MALUNGGAY PANCAKE
1 pack of maya pancake
1 cup fresh malunggay leaves, chopped
Follow instruction in the packaging.
Add malunggay right before cooking.
HERE is the secret to have a palatable pancake; no taste of malunggay and no smell of leaves:
2. Mix your old pancake recipe in a separate container. You can have any kind of the usual pancake mixture. Have your own way.
3. Chop fresh malunggay leaves, then set aside on a separate container.
DO NOT MIX IMMEDIATELY MALUNGGAY AND PANCAKE MIXTURE.
4. Prepare for cooking. You can only mix the pancake mixture and malunggay leaves when you are about to cook. This will prevent the pancake from the unpleasant smell of the leaves. What I mean, do not soak malunggay leaves to pancake mixture for more than 30 minutes to preserve the vanilla flavor of your pancake.
VEGETABLE / FRUIT BLEND DETOX
GREEN JUICE
2-3 pieces cucumber (around 6 inches long)
1 cup pineapple slice, chunks
6 pieces talbos ng kamote
1 sachet of stevia
INSTRUCTION:
Use a JUICER. Juice cucumber, pineapple and kamote tops. Stevia can be added.
Drink within 5 minutes.
Good for one person.
FRUIT BLEND DETOX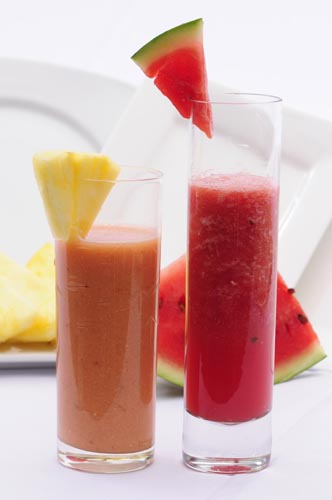 2 cups watermelon with seeds and inner skin (yellowgreen skin)
1 cup papaya (with seeds-optional)
1 cup banana, sliced (for kids)
(ice chips and banana for kids)

INSTRUCTION:
Use a BLENDER. Blend the watermelon first with seeds and inner skin until it becomes liquid. Then add papaya and banana. For kids to enjoy, ice chips can be added.
Drink within 5 minutes.
This fruit blend contains no sugar and water.
NOTE: You can have a wide variety of combinations. Simply mix sour fruits to sour and sweet fruits to sweet.
Good for one person.
For more information, log on to www.themayakitchen.com or e-mail [email protected] or visit The Maya Kitchen Culinary Center every Tuesday to Saturday at 8F Liberty Building, 835 A. Arnaiz Avenue (Pasay Road), Makati City or call 8921185 / 892-5011 local 108.