Before the onset of the internet, I used to make Chocolate creations during special occasions. I enrolled back then at Chocolate Lovers in the early nineties. Selling chocolates is quite profitable especially during the holidays. "Chocolate Lover" produced a lot of micro-entreprenuers among homemaker . Unfortunately, I don't make chocolate creations now that my children are adults.
I was unable to attend Maya Kitchen demo when choco expert Roxanne Arcilla showed students the tricks and secrets of creating chocolate masterpieces.
The hands-on class had students doing their own, choco flakes, chocolate dipped caramel apples and strawberry, chocolate moulded flowers, ganache-filled chocolate molds and choco crunchies and toffee crunch.
Three recipes of chocolate creations are shown below.
How to Make Modeling Chocolate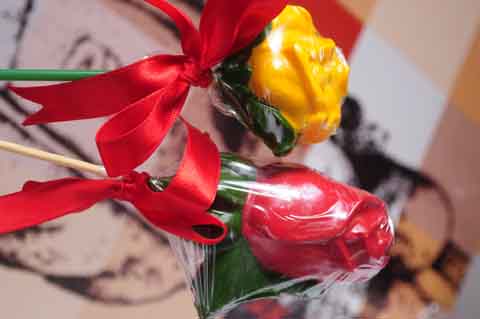 250grams. dark chocolate
100 grams corn syrup
Plastic wrap
Spatula
Glass or metal mixing bowl
Medium saucepan
1. Melt the chocolate over a double boiler. To create a double boiler, fill the saucepan with water, bring it to a boil, turn off the heat, and rest the bowl on the inside rim of the saucepan, just above the height of the water. This ensures the chocolate does not get overheated.
2.Cool the melted chocolate until it feels cool, Heat the corn syrup until it just starts to boil.
3. Add the heated corn syrup to the melted chocolate and mix with a rubber spatula until it forms a smooth paste.
Wrap the mixture in plastic wrap and refrigerate.
4. Allow the modeling chocolate to firm and chill all the way through.
5. Remove the modeling chocolate from the refrigerator and knead until it becomes soft and pliable. Mold into your preferred shape and design.
6. Shape remaining chocolate into logs for easy storage. Store wrapped and refrigerated.
CHOCOLATE COATED APPLES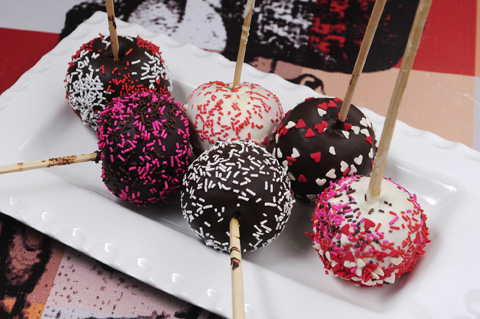 Dark/white chocolate, melted
Rice crispies, mini colored marshmallows, chopped nuts, multi colored candy sprinkles
Melt Chocolate
To melt chocolate or confectionery coating:
In the microwave: This is a very easy way to melt chocolate: place it in a microwave-safe bowl and zap it on high power at 10-second intervals, stirring each time, just until it's completely melted.
In a slow cooker: A slow cooker, set on low heat, is perfect for melting chocolate and keeping it at just the right temperature while you work. All you need to do is stir it occasionally and keep an eye on it to make sure it's not getting too hot. If it does get too hot, turn off the slow cooker, remove the insert, and stir in a couple of pieces of unmelted chocolate to cool it down quickly.
In a double boiler: This method allows you the most temperature control, and is best for higher-quality chocolate. Set up your double boiler with a small amount of water–the water should not be touching the top pan–and warm it over medium-low heat. Melt chocolate, stirring occasionally, just until the mixture is smooth, then remove the pan from the heat.
Insert the sticks into the middle of the apple, dip completely into the chocolate, twisting gently so that they're completely coated with chocolate.
Roll the chocolate covered apples into your choice of coating- rice crispies, mini colored marshmallows, candy sprinkles, etc.
CHOCO CRUNCHIES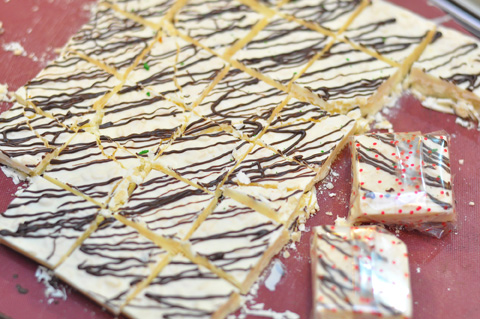 500 grams white chocolate, melted
Rice crispies
Follow previous direction in melting chocolate. Combine melted chocolate and crispies and pour in pan. Let set and slice into squares. Drizzle with brown chocolate, if preferred.