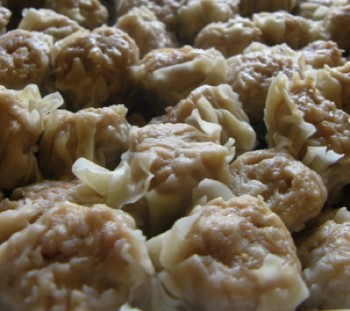 I find it expensive to buy siomai. Don't you? So why not make your very own siomai and freeze it? The price of Siomai alone forced me to concot my very own Siomai recipe taken from various sources. My kids love to dip their dumplings in soy sauce and calamansi mixed with chili garlic sauce. If you are a pesco-vegetarian like me, just replace the pork with chicken meat or crab meat. I usually cook it separately because the rest of the family love their siomai to contain pork. I will add the photos soon but in the meantime, enjoy cooking.
Wonton Wrapper (You can make your own wrapper or just buy them at the grocery)
1 cup all-purpose flour
1 egg white
4 tablespoon lard
3 tablespoons water
1. Place flour in a bowl. Make a well in the center.
2. Add the egg white, lard and water in the center. Mix the ingredients in the center thoroughly and quickly work in the flour. Knead well.
3. Roll out thinly and cut into rounds of about 4 inches in diameter.
4. Put filling in each wrapper.
Filling
1/2 kilo Ground Pork with a bit of fat (instead of ground, diced to small pieces or chopped)
1 kilo cooked crab, shelled and chopped (or just substitute with 1 kilo ground pork)
1/4 kilo shrimps
2 tsp. sesame oil
1 tsp. rice wine
3 Tablespoons Chopped spring onions
8 Chinese dried mushrooms (soaked in hot water until softened and chopped)
1 small chopped water chestnuts or Singkamas or 1 small can bamboo shoots, drained and chopped
1 small carrot, grated
3 Tablespoons Cornstarch
2 eggs
2 Tablespoons Soy Sauce
2 teaspoon sugar
dash of black pepper
1 teaspoon 5 spice powder (if You don't have this, see below on how to prepare the 5 spice powder or buy the McCormick Chinese Five Spice (Ngo Yong) at your favorite grocery store)
5 Spice Powder
Make your own Chinese Five spice powder seasoning mix using either ground or whole spices.
Ingredients for Chinese Five Spice powder
* 1 tsp. ground Szechwan pepper
* 1 tsp. ground star anise
* 1-1/4 tsp. ground fennel seeds
* 1/2 tsp. ground cloves
* 1/2 tsp. ground cinnamon
* 1/2 tsp. salt
* 1/4 tsp. ground white pepper
Preparation of Five Spice Powder:
Combine all ingredients in small airtight container. Store in a cool, dry place.
(Source: busycooks)
Okay now to prepare the filling:
Siomai
1. Combine all the ingredients together.
2. Continue to mix all ingredients inside the bowl for another 4 minutes. Leave overnight in the refrigerator so all flavors seep in all together.
3. The following day, place 1 heaped tablespoon in the center of each wrapper. Press down gently with a back of spoon to make the filling compact without air spaces.
4. Press wrapper up and around all the sides of the siomai leaving the center open.
5. Arrange the filled wrappers on the plate of the steamer which has been greased. Do not crowd the steamer.
6. Steam for 15 minutes on medium heat or 8 minutes if one uses high heat. Be careful not to overcook so siomai does not end up too dry.
7. Garnish the top of the siomai with shredded carrot and cilantro (wansoy).
8. Serve with toyo and calamansi and chili-garlic paste.
Yields around 5 dozen.