It is 2012! Celebrate the New Year with a mixture of something exciting , new and simple. What about Herbed Parmesan Crackers that are perfect alone or with a steaming bowl of soup.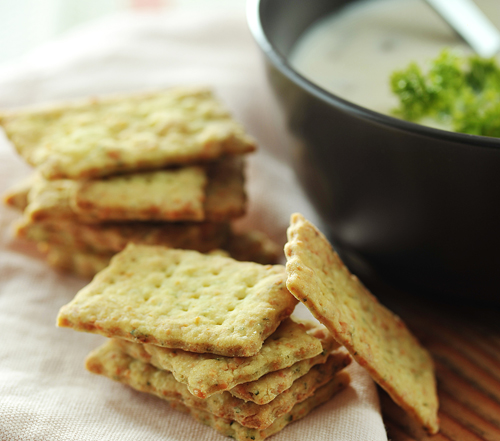 Here is the recipe:
1 ¾ cups MAYA All-Purpose Flour
½ cup butter
1 cup freshly grated parmesan
¼ cup parsley
1 teaspoon garlic powder
¼ cup all-purpose cream
powdered parmesan (optional)
Directions
1. Preheat oven to 400°F/200°C. Line baking sheet with wax paper or parchment paper and lightly dust with flour. Set aside.
2. In a food processor, combine flour, butter and cheese. Pulse until well blended. Add parsley and garlic powder. Continue mixing and add cream 1 tablespoon at a time until mixture holds together but not sticky.
3. Roll out dough on a floured surface until 1/8 inch thick. Cut into desired shapes using cookie or pizza cutter.
4. Prick shaped dough with fork and place into prepared baking sheets. Bake for 10 minutes or until lightly brown.
5. Cool and dust with powdered parmesan, if desired. Serve right away or store in a tightly sealed container. Best serve as snack or eaten with soup.