Thinking of yummy desserts for Christmas day? I usually bake Apple Pie served with vanilla ice cream but I will make this Lemon Pie that Chef Christine 'Kittin' Zenarosa from the Cookbook Kitchen shared in a cooking demo at Maya Kitchen.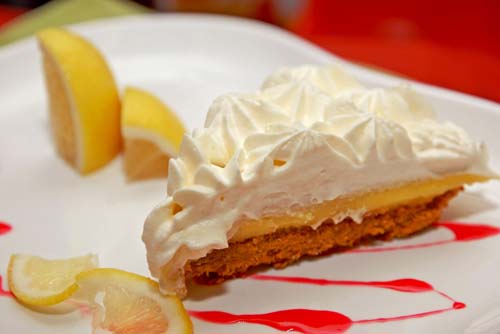 Graham Pie Crust: (Do ahead )
6 tablespoons salted butter
1 ½ cups Graham Cracker Crumbs
¼ cup sugar
Lemon curd:
3 lemons (finely grated rind & lemon juice)
4 eggs
1 cup caster sugar
1/2 butter, chopped
Procedure:
1. Make Pie Crust: Mix all ingredients together and press firmly with hand or spoon onto an 8 or 9-inch round pie pan. Refrigerate for at least 1 hour.
2. Make lemon curd: Finely grate rind of 1 lemon. Juice all lemons. Whisk eggs and sugar together in a heatproof bowl until well combined. Add lemon rind and 2/3 cup lemon juice, whisking constantly until well combined. Place bowl over a saucepan of simmering water (do not allow base to touch water). Cook, stirring with a wooden spoon, for 30 to 35 minutes or until thick and custard-like. Do not allow to boil. Remove from heat and whisk in butter.
3. Pour lemon curd into chilled pie crust. Cover with plastic wrap and refrigerate overnight. Dust with icing sugar and serve.