Umbuyan is tinapa flakes sautéed in olive oil and wrapped in pechay leaves . Its origins in Manila is found in the place where Andres Bonifacio was born. When I looked for the definition of "Umbuyan", I could only see "fish smoking house worker", Tinapa is smoked fish so I understand the rationale behind the name of the dish. Try this recipe from the Chef of Ilustrado, the home of heritage Filipino-Spanish cuisine .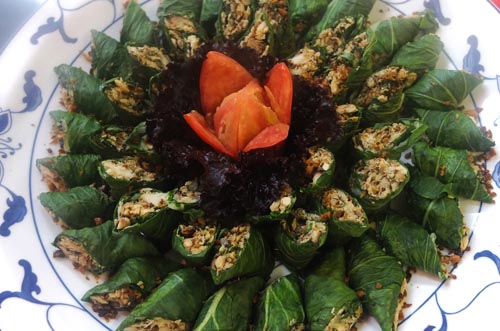 good for 2 persons:
Ingredients:

¼ cup olive oil
25 gms. garlic
30 gms. onion
200 gms. tinapa flakes
9 pcs. petchay leaves
1 tbsp. fried garlic (for garnish)
Salt and pepper to taste
Procedure:
1. Sauté garlic and onion in olive oil until brown. Add the flaked tinapa and cook for 2 minutes.
2. Season sparingly (remember that the tinapa is already salty and flavorful) and set aside.
3. Spread 6 pieces of blanched petchay leaves on a food prep surface or plate.
4. Remove the stalks of the petchay leaves and chop the stalks together with the remaining 3 pieces petchay leaves.
5. In a separate bowl, mix with the flaked tinapa.
6. Scoop a spoonful of the mixture on top of the blanched petchay leaves then roll similar to how one would roll a spring roll.
7. Plate and sprinkle with the fried garlic. Serve warm or cold.
For more information, log on to www.themayakitchen.com or e-mail [email protected].