It is quite tempting to cook kare-kare using the ready-made mix at the grocery , but I like cooking from scratch. My first kare-kare dish came from Nora Daza's recipe book. That's the only recipe I know. Fortunately, Alessandra Romulo Squillantini, granddaughter of the late statesman Carlos P. Romulo and her husband Enzo Squillantini graciously shared family recipes that date back several generations at a cooking demonstration at The Maya Kitchen . One of this is Tito Greg's Kare-Kare (oxtail and tripe stew in a peanut-based sauce served with steamed vegetables and Romulo Café's house bagoong). Here is the recipe.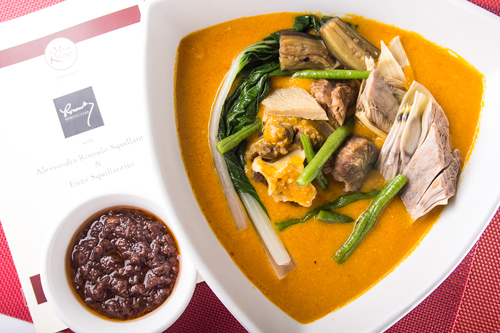 750 grams ox tail
80 grams white onions
1 teaspoon salt
¼ teaspoon whole black peppercorns
30 grams glutinous rice
100 grams dry, roasted peanuts
150 grams eggplant
150 grams string beans
30 grams annatto oil
10 grams garlic
50 grams shrimp paste
salt, to taste
150 grams banana blossom
1. Wash ox tail very well. Place in a pot with enough water to cover. Boil for 10 minutes and discard the water.
2. Refill the pot with water. Peel and cut the white onions into quarters. Add to the pot along with salt and peppercorns. Bring everything to a boil and immediately reduce heat to simmering temperature (82°C/180°F). Cover and cook for 90 minutes or until the ox tail is tender.
3. Cool in the cooking liquid, cover and refrigerate to bring the fat to the surface. Bring out the ox tail from the cooking liquid and reserve the broth.
4. Toast the glutinous rice in a skillet until golden brown. Once cooled, pulse the glutinous rice in a food processor. Do the same with the roasted peanuts until the peanuts become creamy. Slice the eggplants lengthwise, leaving the stems intact. Cut the string beans into 5-cm long pieces.
5. In another pot, heat the annatto oil over medium heat. Sauté the garlic together with the shrimp paste. Add the ox tail and sauté for a few minutes before adding 4 cups of reserved broth. Lower the flame and simmer until the broth has been reduced by half. Add the toasted ground rice and stir continuously until thick and creamy. Add the peanut paste and keep stirring. Turn off heat but keep the pot covered.
6. In a separate pot, boil the remaining water and add salt. Add the string beans and cook but should still be firm and green. Add the banana blossom and eggplant and boil until cooked.
Servings: Good for 3