During a rare moment of domesticity, I offered to make kani (crab stick) salad for dinner today. I was inspired by a rather expensive kani salad I had at a Japanese restaurant at Eastwood whose name escapes me now. The kani salad I ordered was incredibly disappointing – not only was there hardly any kani; 70% of the salad was made up of cucumbers. I really, really hate cucumbers.
The kani salad I made tonight was something I just kind of put together by myself. Except for a little help from Google on "Japanese mayo", I pretty much came up with the recipe all on my own. Here's what I remember of it: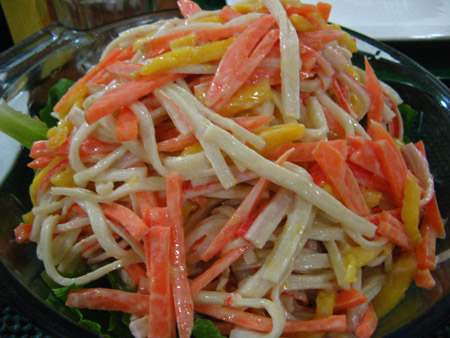 8 sticks of kani
2 small carrots, chopped into strips
one mango, chopped into strips
several lettuce leaves
kani salad dressing (mayonnaise, Kikkoman soy sauce, and sesame oil)
Make the kani salad dressing by combining three tablespoons of mayonnaise with half a cup of water. Mix vigorously until you get a light consistency. Add a teaspoon of Kikkoman soy sauce (you can add more if you want) and several drops of sesame oil.
Prepare the kani by cutting them in half and steaming for several minutes. Once steamed and soft, shred the kani into thin strips using your hands.
Combine the kani, chopped carrots, chopped mango, and the salad dressing. Toss.
Place ontop of lettuce leaves and eat with chopsticks!