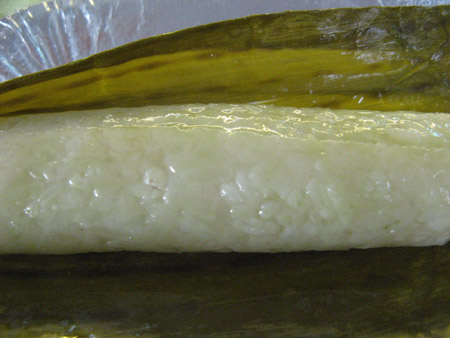 These days, traditional suman has moved on to many flavors. I still stick to my childhood memories of Suman Luya dating back to Christmas Eve. My mom would cook the sticky rice in a big kawali in the dirty kitchen. Suman Luya is extremely smooth tasting with the right amount of sweetness. It's perfect for hot chocolate drink during the noche buena or for New Year's Eve. The taste in itself reminds me of Christmas in Cebu.
Here is the recipe of Suman Luya (Suman Flavored with Ginger) or you can buy Suman Luya from this entry Where to Buy Suman in Manila
Ingredients
1 ganta malagkit (equivalent to 2.25 kgs glutinous rice)
8 coconuts
1 tablespoon salt
2 cups white sugar
4 Banana Leaves
4 Tablespoons Ginger, chopped
Procedure
1. Wash malagkit.
2. Squeeze the grated coconut to get the milk, add salt.
3. Boil all together (malagkit, ginger, coconut cream, sugar) till almost cooked in the carajay.
4. Remove from fire.
5. Wrap 1 1/2 tablespoon of cooked Malagkit in banana leaves tying the two ends. . Keep each suman 1.25 cm thick, 4 cm wide and 12.5 cm long.
6. Arrange on steamer rack in a staggered pile. Steam for 30 minutes. Keep the steamer well-supplied with water to prevent drying out.
7. Serve with Hot Tsokolate