Indeed what is Christmas or New Year in the Philippines without Queso de bola (Edam)? Our Spanish colonizers probably brought the festive ball of cheese hundreds of years ago but the cheese is originally from Holland. My friend who married a Dutch claims that the brand "Marca Piña" manufactures this round ball exclusively for the Philippine market. In fact, this Edam cheese tastes inferior compared to the premium Edam cheese she brought over from Holland.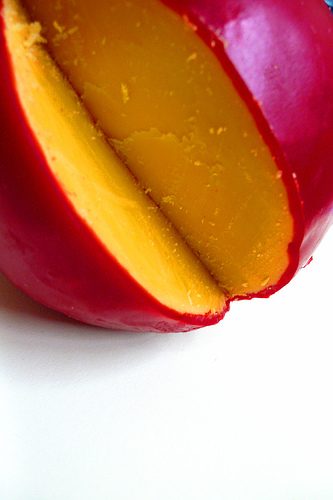 There are many ways one can do with the Queso de bola. Of course you can eat it and even prepare a Cheese dip. But what about a Queso de bola Cheesecake? Restaurants are offering it now but I always take pride in baking my own. I innovated my Blueberry Cheesecake to come out with my own version. You can definitely innovate your own Cheesecake recipe.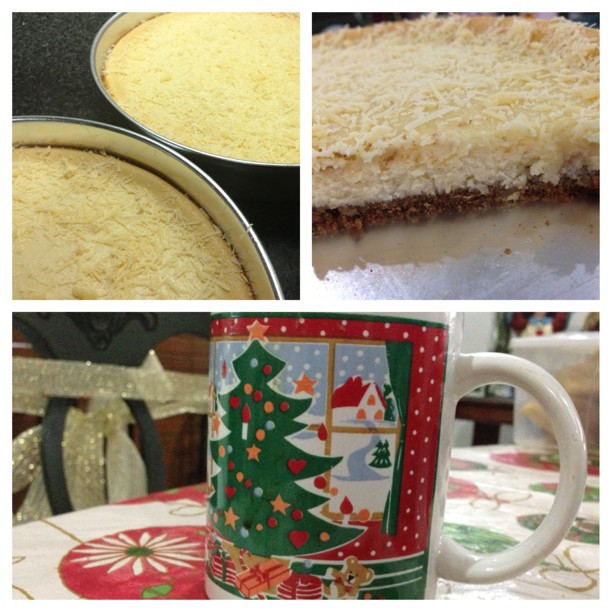 I have tasted quite a few Queso de bola Cheesecakes. My daughters tell me that they do not want it salty and resisted the thought of having such a Cheesecake. With their views in mind, I made sure that my Queso de bola Cheesecake won't turn out salty and that it should still taste like a regular Cheesecake.
Before baking, it is important to determine what you are looking for in a Queso de bola Cheesecake. If you want a more "Queso de bola" taste, increase the amount of cheese which I will indicate below.

Here is my recipe.
Crust
1 3/4 cup Graham Crackers Crumbs
1/4 cup walnuts, chopped
1/2 tsp. Cinnamon
1/2 cup melted butter
Filling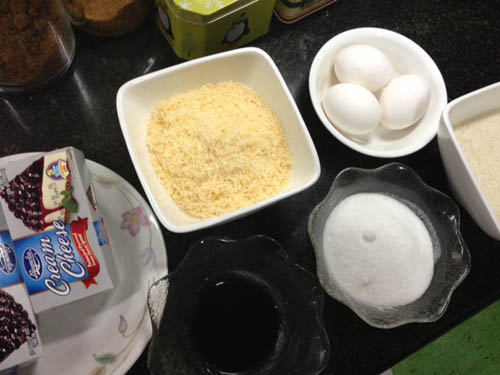 3 eggs
2 packages (8 oz size) Cream Cheese
3/4 cup Sugar
2 teaspoon vanilla extract
1 1/2 cups grated "Marca Piña" Queso de bola ( Variation: Increase to 2 cups grated Queso de Bola for a more "queso de bola"taste)
1 1/2 cup sour cream ( Variation: reduce to 1 cup if using 2 cups grated Queso de Bola)
(If you can't find sour cream: substitute with 1/2 cup evaporated milk plus 1/2 cup water. Add 1 tablespoon calamansi juice or vinegar. Let stand until curdled)
Procedure
1. Mix all crust ingredients together.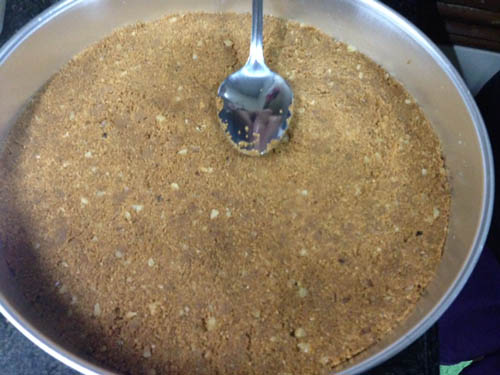 2. Press the mixture into bottom and side of 9-inch spring form pan. Set Aside. Chill until ready to use.
3. Cut the cream cheese into chunks and place in the bowl of an electric mixer, with the paddle attachment. (I prefer the beater though)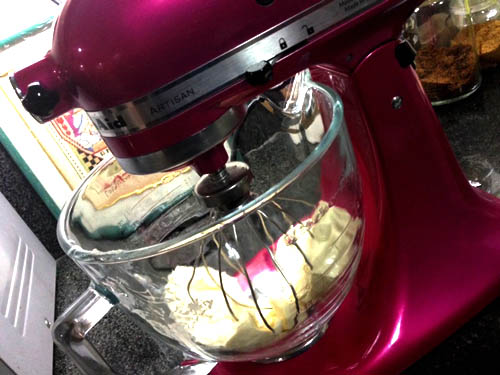 4. Mix on medium speed for 4 minutes until smooth, soft and creamy. Add the Queso de bola and beat on medium speed for around 5 minutes.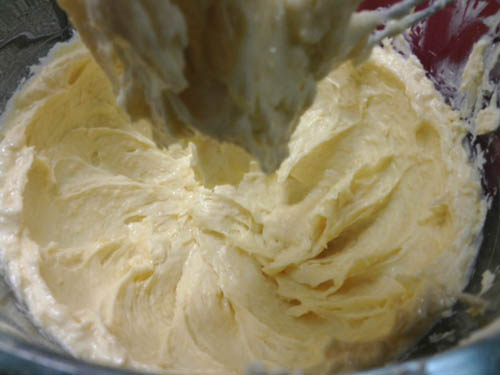 5. Add the sugar, beat for 4 minutes more. Add the vanilla, beating after each addition.
6. Add the eggs, one at a time, beating for one minute after each addition.
7. Blend in sour cream and beat until well mixed.
8. Pour into crust. (I chose not to place the batter in one pan because I wanted it thinner. However you can choose to place all the batter in one spring pan)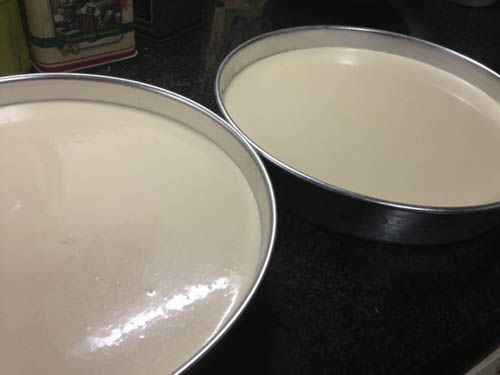 9. Bake at 325 F for 1 and a half hour.
IMPORTANT: To prevent dryness , use the banyo maria. Place the pans in a larger pan containing an inch of water, the result of which is bake-steaming the cheesecake batter.
10. Turn off the heat of the oven. Leave the oven door open about an inch to allow the cake to cool in the oven.
11. Let stand for another hour in the oven. This gentle cooling helps prevent the cheesecake surface from cracking.
12. Remove from oven. When cool, cover the pan with aluminum foil. Chill 4 to 5 hours.
13 . Top with grated Queso de bola on the top before removing from the pan (Optional)
Topping the Cheesecake with grated Queso de bola is optional. I thought the addition will make it look like a festive "Queso de Bola" Cheesecake.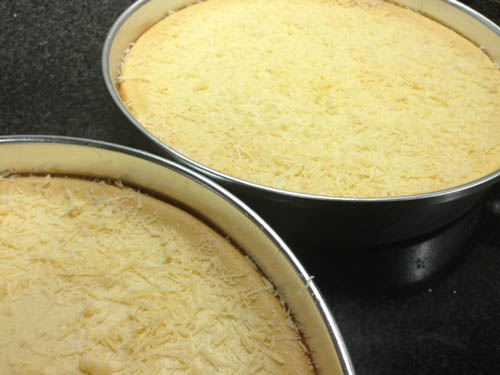 The verdict. Everyone from our cook , my husband and two daughters loved it. They could not wait for tonight's New Year's Eve dinner. We ate it for breakfast along with Coffee. My girls said "tastes just like Cheesecake" but without the saltiness of the "Queso de bola".
Remember , if you want to use this recipe, decide on the final taste of the Cheesecake. Innovate. If you want a more "Queso de bola" taste, increase the amount of cheese as indicated in the recipe.
Enjoy.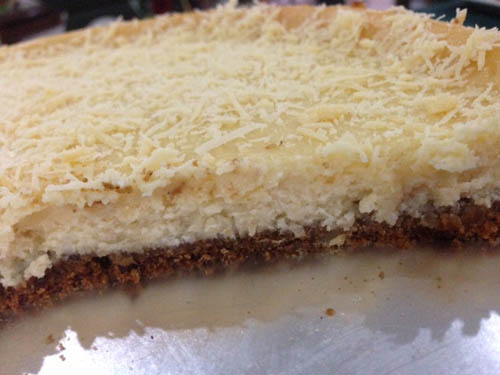 Photo: "queso de bola" by chotda, c/o Flickr. Some Rights Reserved