It is 2013 and I bet most of you have either eaten a lot during the past few weeks. Most New Year resolutions start with doing something right. So here is one recipe that can help start the year right and light with unbelievably delicious yet healthy recipes prepared by The Maya Kitchen.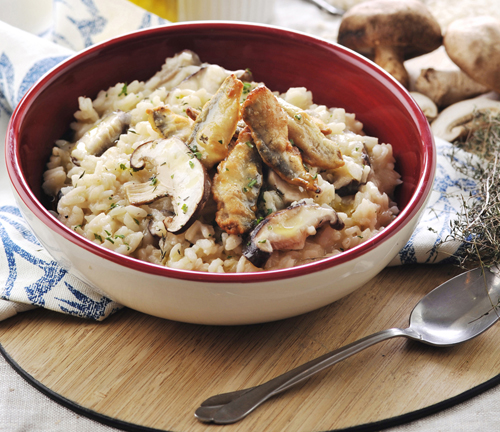 One recipe is the Risotto of Italian origin turned Pinoy topped with crispy fried tawilis. I love Risotto's rich and creamy texture but still with some resistance or bite: al dente, and with separate grains. "The traditional texture is fairly fluid, or all'onda ("wavy, or flowing in waves"). It is served on flat dishes and it should easily spread out but not have excess watery liquid around the perimeter. "
Tawilis is referred to as the Freshwater Sardinella found exclusively in the Philippines specifically in Taal Lake in Batangas province. It is unique in that it is the only member of the family Clupeidae that is known to exist entirely in freshwater. Try this Pinoy version of the Risotto .
You should eat the Risotto at once as it continues to cook in its own heat and can become too dry with the grains too soft.
2 tablespoons olive oil
2 tablespoons butter
3 cloves chopped garlic
¼ cup chopped onion
½ teaspoon fresh thyme
1 cup Arborio rice or long-grain rice
¼ cup white wine
1 ½ – 2 cups hot chicken or mushroom broth
½ cup shitake mushrooms, sliced
salt and pepper to taste
¼ – ½ cup grated parmesan cheese
10-12 pieces fresh Tawilis fish, scaled and fillet
juice of half lemon
salt and pepper to taste
¼ cup MAYA All-Purpose Flour
olive oil for frying
chopped parsley, for garnish
olive oil, for garnish
Procedure:
1. In a large, heavy-bottomed saucepan, heat the oil and butter over medium heat. When the butter has melted, add chopped garlic, onion and thyme. Sauté for 2-3 minutes or until slightly translucent.
2. Add the rice to the pot and stir briskly with a wooden spoon so that the grains are coated with the oil and melted butter. Sauté for another minute, until there is a slightly nutty aroma.
3. Add the wine and cook while stirring, until the liquid is fully absorbed. Put chicken or mushroom stock to the rice and stir until the liquid is fully absorbed.
4. When the rice appears almost dry, add more stock and repeat the process until the rice has a creamy consistency. Add in the shitake mushrooms and season with salt and pepper. Stir in parmesan cheese. Set aside.
5. Heat oil in a frying pan. Set aside.
6. Squeeze lemon juice on fish and season with salt and pepper, coat with all-purpose flour and fry until golden brown.
7. Arrange fish on top of your risotto and garnish with parsley, drizzle with little amount of olive oil. Serve while still hot.
Note: It's important to stir the rice constantly, especially while the hot stock gets absorbed, to prevent scorching.
Yield: 3-4 persons
For more recipes, other culinary ideas and course schedule, log on to www.themayakitchen.com.