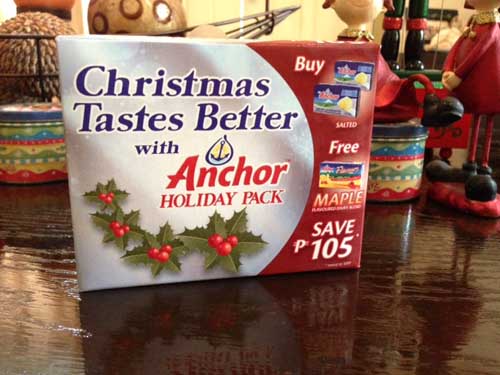 My Noche Buena menu is always special. I honor the day with something lovingly baked from my kitchen. I plan my groceries ahead of time so I never ran out of supplies. Butter has to be Anchor because I prefer to source my ingredients from either Australia or New Zealand. To my surprise , the grocery offered "Anchor Holiday Pack", with Buy 2 Anchor Butter and get 1 FREE Anchor Maple butter. It's my first time to come across Anchor maple and right away thought of a butter cake. At the back of the carton was a recipe for "Maple Rum Cake". What a brillant idea. My kids are not too hot about Fruit Cake. Something new like "Maple Rum Cake" might be a better idea for our Noche Buena.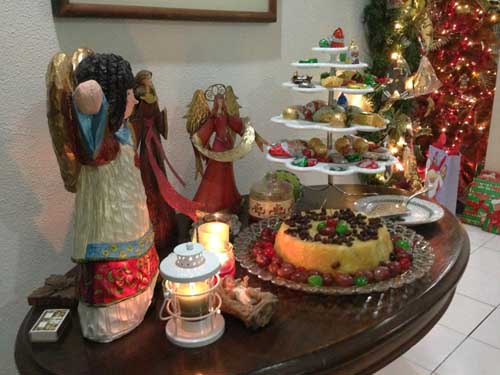 I turned out a more festive Rum Cake in keeping with the Holiday season. The recipe as shown below came from the back part of the Anchor Maple butter carton. The only modification I did was soak 1/4 cup of raisins in 1/4 cup Tanduay Rum.
Ingredients

1 bar Anchor Maple (200 g)
1 cup sugar
1/2 teaspoon salt
1 Tbsp Vanilla
1 tsp. Baking Powder
1 3/4 cup all-purpose flour, sifted
4 pieces eggs
Glaze
1/2 bar Anchor Maple (200 g), melted
1/ cup sugar
water for syrup
Rum (to taste)
Optional ( soak 1/4 cup of raisins in 1/4 cup Tanduay Rum)
Grapes, cherries to decorate the Rum Cake
Procedure:
1. Cream butter and sugar until light and fluffy.
2. Adds eggs one at a time.
3. Add Vanilla
4. Mix together the baking powder,flour and salt.
5. Stir into the mixture.
6. Pour into a greased loaf pan (I used a round pan to make it look festive.)
7. Bake at 180 Celsius until the toothpick comes out clean.
8. Cool then glaze.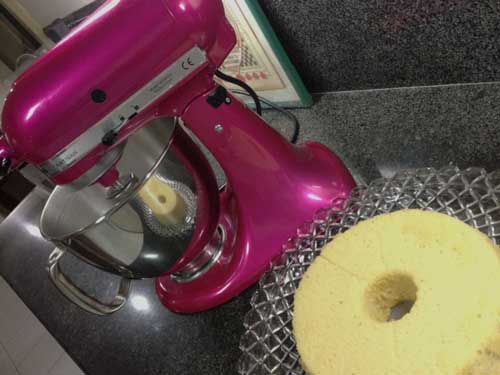 In case you want to shop for a KitchenAid mixer, you can purchase it at Lazada. Click here to buy KitchenAid 5KSM150PS 5-Quart Artisan Stand Mixer
Here is the freshly baked Rum cake. (Don't you love my Raspberry frosted Kitchen Aid?) I decorated the cake with seedless grapes, maraschino cherries, green glazed cherries and raisins soaked soaked in rum. The decors make it look even more festive.
Glaze
1. Dissolve the sugar into water.
2. Add in the melted butter and rum.
Optional: stir in the raisins soaked in rum.
3. Pour all over the Rum cake.
4. Decorate with seedless grapes, cherries and green cherries.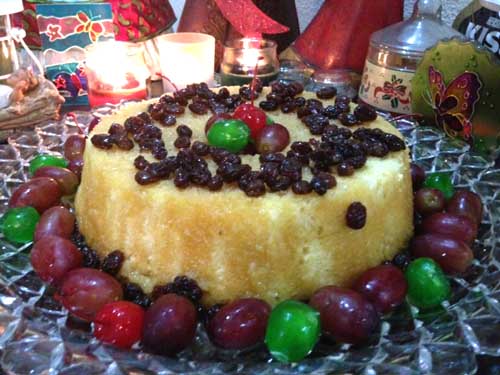 And the verdict. My daughter loved the texture. She wished I placed more rum though. Maybe next time?
In case you want to shop for a KitchenAid mixer, you can purchase it at Lazada. Click here to buy KitchenAid 5KSM150PS 5-Quart Artisan Stand Mixer