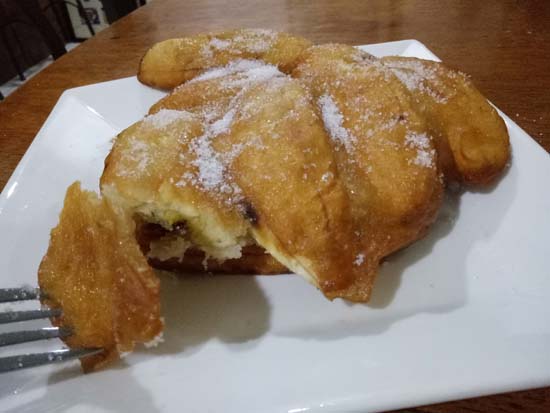 As a little girl growing up in Cebu, I often spotted vendors near our home, selling maruya or banana fritters. This is my favorite snack and I read that it is also incoming president Rodrigo Duterte's favorite midnight snack. The most common variant is prepared by coating thinly sliced and "fanned" saba or plantain bananas in batter and deep frying them. Don't confuse Maruya with Pinaypay. According to The Freeman Lifestyle, "while pinaypay (meaning "resembling a hand fan") and maruya (meaning "deep-fried") are both made from plantains or bananas that are valued more as a vegetable, like kardaba or saba, there is a difference in their respective preparation." Not all pinaypays have to be dipped in batter; there is a simplified pinaypay that just goes straight into deep frying without the batter. For its part, maruya is not limited to bananas."
This recipe of Maruya is taken from The Freeman, a Cebu-based newspaper:
Ingredients:

5 ripe bananas, cut lengthwise (saba)

2 eggs, beaten

¼ cup all-purpose flour

½ cup refined sugar

1½ cups water

½ cup evaporated milk

¼ teaspoon salt

½ teaspoon baking powder

2-3 cups cooking oil

Some prefer deep frying to even out the cooking, but the fritters absorb too much oil this way. To economize on oil, fry the fritters one at a time with just enough oil.

Directions:

1. Mix the flour, eggs, sugar (¼ cup), water, baking powder and salt to make a thin batter.

2. Coat each banana thoroughly with the mixture.

3. Fry in medium heat until both sides are golden brown.

4. Drain excess oil on paper towels.

5. Sprinkle with sugar.

If you desire crunch to reach to the edges, substitute half of the all-purpose flour with cornstarch. You may also try adding jackfruit strips to the banana for an extra kick. Fresh or preserved jackfruit will do.