It was Sandy Daza's Home Cooked Meals at The Maya Kitchen a few weeks back. Sadly I could not join as I had to attend to something that Saturday. Maya Kitchen shared me the recipe though. Let me share Shepherds' Pie which is so easy to prepare, no-fuss cooking and a must-have dish at home if you are bored with Pinoy cooking.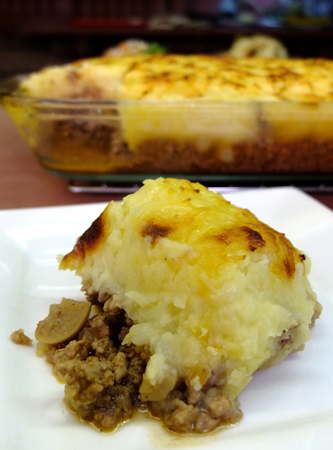 I often prepare this at home and it is always a hit with my family. Shepherd's pie is basically a traditional dish of ground meat under a layer of mashed potato. They say the dish origins came from ways to use "leftover roasted meat of any kind, and the pie dish was lined with mashed potato as well as having a mashed potato crust on top."
Sounds yummy so let's start.
Here is the recipe.
Ingredients:
3 tablespoons olive oil
2 tablespoons chopped garlic
1 cup chopped onions
½ kilo beef, ground
1/3 kilo pork, ground
1 cup chopped button mushrooms
2 teaspoons basil leaves
¼ cup catsup
1 beef cube
3 tablespoons seasoning sauce
1 tablespoon Worcestershire sauce
1 tablespoon sugar
Topping:
400 grams, potatoes, boiled and mashed
1/2 cup all purpose cream
¼ block salted butter
2 teaspoons salt
½ teaspoon pepper
Let's get cooking:
1. Sauté garlic and onions in olive oil.
2. Add in meats and sauté until brown. Add all other ingredients and simmer until dry. Lay on baking dish.
3. Prepare mashed potatoes: Combine potatoes, cream and butter. Season with salt and pepper.
4. Mix well and top over ground meat. Pipe out decoratively on top of Sheperd's pie, top with cheese.
5. Broil until top is brown.