Malunggay & Spinach Cheese dip is nutritious greens in a creamy, cheesy brûleé best served with crispy crostini. This is a signature appetizer in Aracama Filipino Cuisine, one of Chef Fernando "Fern" Aracama's restaurants. I was glad he shared the recipe with us during a cooking demo at the Maya Kitchen because I have always wanted to serve this to my guests.
Chef Fern says this is a great base where you can add canned artichokes, sun-dried tomatoes, asparagus, black olives, capers, smoked salmon, tinapa but keep it whole. It tastes really good with pasta too.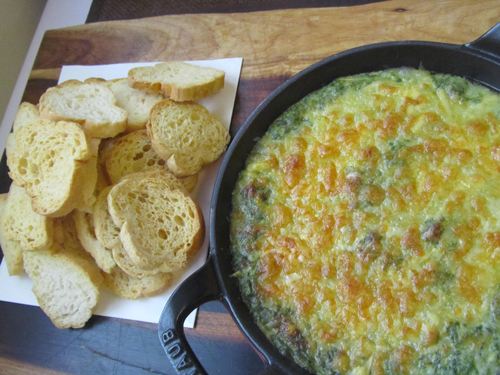 Here is the recipe:
50 grams blanched and chopped malunggay leaves ** (see blanching tip below)
50grams blanched & chopped Spinach leaves ** (see blanching tip below)
¼ cup heavy cream
½ cup cream cheese, room temperature (or substitute for Greek Yoghurt + cottage cheese)
¼ tsp. ground white pepper
1 tsp onion powder (optional but delicious. Fried shallots as substitute)
1/4 tsp sea salt
140 grams grated cheese, your choice- cheddar, mozzarella, gouda, parmesan or blue cheese.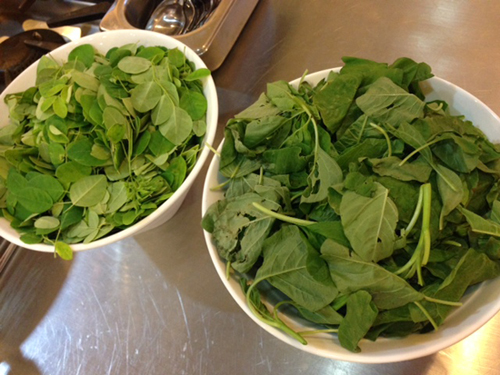 Procedure
1. In a food processor bowl: put in the blanched and chopped malungay & spinach. Process to chop further. (if you don't have a processor, just chop it more)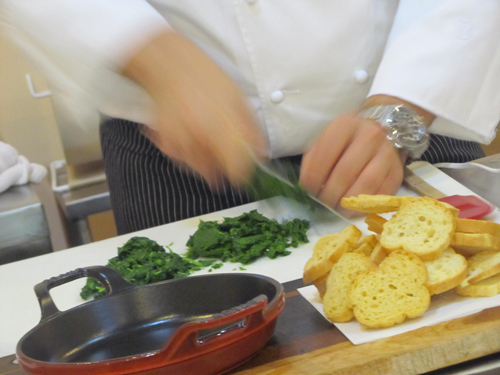 2. Add in the heavy cream, cream cheese ground pepper, onion powder and sea salt, Process until the mixture is smooth & well blended. (if you are in a hurry, use mayonnaise or sour cream)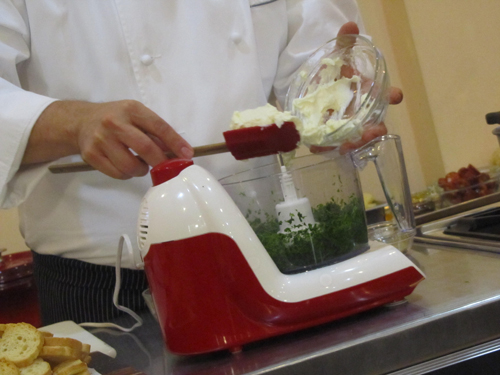 3. Spoon the mixture on to a bake proof dish and spread out evenly. Top with grated cheese and broil in the oven or an oven toasted until the cheese is hot and bubbly.
4. Serve with crostinis (little pieces of baguette that you toast) or warm toasted bread or crackers.
Serves four
** Note: Blanching technique : ( you need boiling water and ice water)
1. Bring a pot of water to a boil.
2. Add some sea salt and then blanch the malungay and spinach leaves for no more than 30 seconds.
3. Immediately remove, drain and shock in a bowl of ice water. ( you stop immediately the cooking, preserve nutrients and color)
4. Drain the blanched leaves and gently squeeze out excess water