Let me share a recipe prepared by Lorna Dietz, my sister based in the United States. You might wonder "healthy kare-kare"? Most Pinoy food is greasy and salty which makes it unhealthy. If you have health issues, it cannot be helped that you'd want to indulge with your favorite unhealthy Pinoy dish. My sister decided to cook kare-kare the healthy way for those that need to follow a strict no-salt diet . Lorna's kare-kare version excludes bagoong but if your family member wants to eat along with you, then serve bagoong as side garnis. Here is her recipe: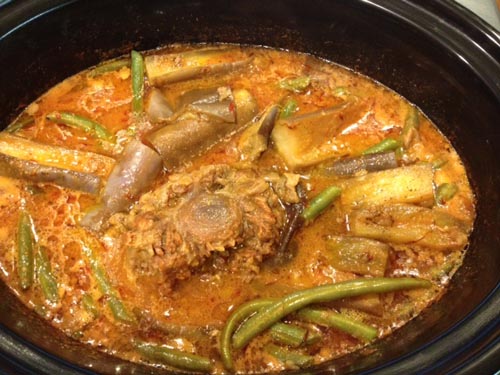 —–
Cooking Notes: I bought a Cuisinart Slow Cooker as a gift for my sister, Myrna. I love cooking for her. For my maiden cooking experience with this cooker, Myrna requested that I make her beloved Kare Kare (Oxtail in Peanut Stew). There was no Kare Kare ready-mix to be found BUT I had most of the ingredients. So, I made Kare Kare from scratch and finished it off in the slow cooker.
My endocrinologist in the Philippines told me that a person's daily allowance of sodium is two grams or 2,000 milligrams. One tablespoon of bagoong is equal to 800 mgs. of sodium. That is why there is no bagoong in this recipe at all.
This is an ideal all-day crockpot recipe except that the broth will be quite fatty. I recommend that you boil the oxtail the night before and use a combination of the chicken broth and oxtail broth in the mixture.
Instead of using all of the oxtail broth for this peanut stew, I chose to use 1/2 chicken broth and 1/2 broth, give or take. The taste may not be as rich — but I can assure you that this is a much healthier version.
When I refrigerate the cooled-down oxtail broth tonight, tomorrow I will skim off the solidified fat and use the rest of the broth for another dish.
HEALTHY KARE KARE (without the Bagoong Alamang)
INGREDIENTS:
1 kg or 2 lbs. oxtail
1 tbsp. extra-virgin olive oil
1 bulb of garlic, peeled (whole cloves)
1 medium onion, sliced
1/2 cup achuete water
1 cube of Knorr chicken broth
4 tbsp creamy peanut butter
2 tbsp toasted powdered rice, or flour (A slurry of 3 tbsps. all-purpose flour, thoroughly mixed with cold water, until lumps disappear; use a fork)
1 tsp. salt (a combination of garlic salt and sea salt, to taste, if you are not eating this with bagoong)
1/2 kilo of 1 lb. green beans, cut
2 medium eggplants, cut crosswise in 1/3's, then halved horizontally
Chinese cabbage or bok choy, cut, optional
COOKING DIRECTIONS:
1. Cut the oxtail 2 inches length then put it in a large pot , add enough water and simmer until tender, add more water if necessary. This will take anywhere from two to three hours. (Note: This is a very fatty broth.)
2. Prepare the achuete , soak in water for 30 minutes then press between you fingers until water turn red,then strain and set the red water aside. OR get 1/2 cup of cold water and mix with 1 tbsp. of annatto (achuete) powder until there are no lumps.
3. Drain the meat and set the broth aside.
4. Saute garlic and onions and add the cooked oxtail, saute for 3 minutes then add 1 cup of water. Add chicken broth cube. Add another cup of water, and 1 cup of reserved broth, salt to taste and the achuete water. Simmer for 15 minutes.
5. Then add the peanut butter and toasted rice powder and simmer for another 5 minutes. OR add the all-purpose flour slurry into the mixture and stir until the mixture thickens and looks a little transparent. If I am pressed for time, I mix the slurry first, then cook it on a separate saucepan until it thickens. Then, I transfer it to the mixture.
6. Add green beans and eggplant and cook until tender, not mushy. Sometimes, during the second hour of the oxtail being tenderized in the huge pot, I get about one cup of the broth and simmer the slices of eggplant in a saucepan before mixing it with the dish later on.
I also add a little kasubha (saffron) and some pepper.
Then transfer to a bowl and serve with bagoong alamang (a Filipino shrimp paste)and boiled rice.
Innovated from the recipe: http://www.lutongpangpamilya.com/recipes.php?recipe=Kare-Kare#.UeHkaEFwrng