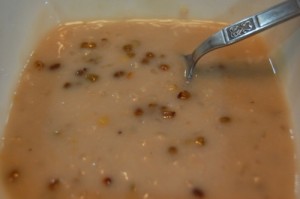 I am sure all of you enjoy feasting on comfort food. One of my fondest childhood memory is eating Ginataang Mongo. The flavor of toasted mongo and the malagkit is quite distinct. With the rainy season upon us, a hot bowl of ginataang mongo is dish that truly delights my children. Here is my recipe.
Ingredients
1/2 cup malagkit rice
1/2 cup mongo
1 1/2 cups diluted coconut milk from 2 coconuts- (I use a can of 400 ml coconut milk as substitute. The can contains 2 1/2 coconuts)
Sugar to taste
Salt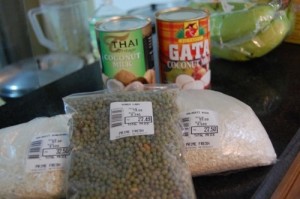 For coconut milk, I use Filtaste Gata (coconut milk) or Thai Heritage Coconut milk if I don't use freshly grated coconut milk.
Directions
1. Roast mongo beans in a kawali until brown.
2. Break the roasted mongo beans with the use of a rolling pin.
3. Combine the malagkit rice with the roasted mongo and boil with coconut milk
4. Stir every so often to keep the rice from burning at bottom of the kawali.
5. Add the sugar and salt to taste when the rice-mongo is tender and cooked well.
6. Serve hot! You can add coconut cream to top it.