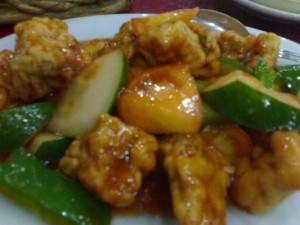 There are many variations of Sweet and Sour Pork. Here is one that does not need a lot of ingredients than my previous recipe on Sweet and Sour Pork.
Ingredients
1/2 kilo lean pork (boiled then cut into 1 inch cubes)
1/2 cup flour
2 eggs slightly beaten
1/2 teaspoon salt
1/2 cup water
3/4 cup pineapple chunks
1 piece green bell pepper, diced
1 carrot, cut into rounds
1 clove garlic, chopped finely
Oil to fry
1. Make a batter for the pork: mix flour, egg and salt.
2. Dip pork pieces in the batter one piece at a time.
3. Fry in pre-heated cooking oil until golden brown.
4. Remove and drain paper toweled colander.
5. Bring back cooked pork cubes into the sauce pan, then add pineapple chunks , green pepper, carrot, garlic and 1/2 cup water.
6. Cook for 10 minutes.
7. Prepare Sweet and sour sauce (recipe below), then pour in saucepan.
8. Let boil uncovered for 5 minutes. Thicken with cornstarch (1 tablespoon cornstarch dispersed in 1 tablespoon water)
9. Serve hot.
Sweet and Source Sauce
1/2 cup sugar
1/2 cup water
1 tablespoon soy sauce
1 teaspoon salt
1/3 cup vinegar
combine all ingredients