If you are tired or lazy to cook, there are instant noodles, ready to cook dishes or heat and eat items. The Top ToriKatsu from Bounty Fresh tops my list of the heat and eat yet tasty dish. Top Torikatsu is made of 100% pure chicken breast meat and goes well with rice, bread and pasta. There are two variants: classic and Cheese and chives. The Classic variant is filled with mayonnaise, while the Cheese & Chives comes with cream cheese and chives bits.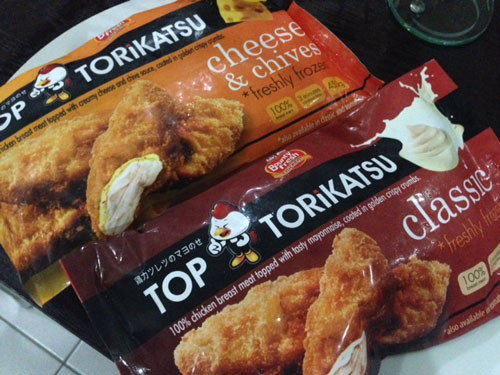 I am not sure if Bounty Fresh Top Torikatsu derived its name from Tori Katsu or Chicken Cutlet in Japanese. Looking at the description from Wikipedia, there is some similarity.
Tori katsu or Chiken katsu (Japanese for chicken cutlet), is a popular Japanese dish in Hawaii.[2] It consists of a breaded, deep-fried Chicken cutlet one to two centimeters thick and sliced into bite-sized pieces or strips, generally served with shredded cabbage and/or miso soup. Generally a butterflied chicken thigh is used; it is usually salted, white-peppered and dipped in a lightly seasoned flour, then dredged in a beaten egg with some Japanese sweet wine added, then coated in Japanese panko breadcrumbs before being deep fried.

It is generally served with tonkatsu sauce (a type of thick Japanese Worcestershire sauce that uses pureed fruit as a principal ingredient, Tonkatsu sauce), or a well-seasoned ketchup in a Hawaiian mixed plate lunch meal served with rice as part of a two or three item combo, or by itself as a dinner entree with rice and vegetable.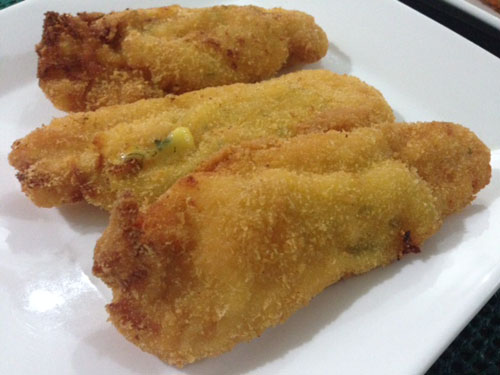 My husband and I tried it out for our lunch and I was in for a nice surprise because it tasted really good. Yes, ready to cook items don't always taste good but this one is an exception. The breast is also tender to the bite which is not surprising since Bounty Fresh prepared it. The crust does not give out a starchy taste to the whole eating experience. My husband I both agree the classic variant is our favorite because it reminds me of well, the classic Torikatsu.
Though the Torikatsu chicken tastes so good as it is, you can prepare Tonkatsu sauce along with it. Of course, you can eat this as stand-alone. If you are bored with the usual ready-to-eat canned goods and even take-outs, I highly recommend this heat and eat Top Torikatsu because it is from Bounty Fresh. I should know, because I don't buy any other chicken except this brand. For some reason, I do not like the after taste of the chicken from the competing brand . It is also easy to prepare. Just fry for 3 minutes and voila, a great tasting dish.