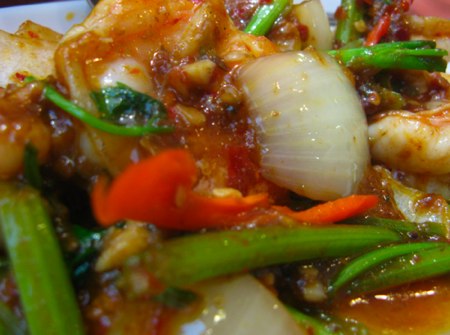 I love the sweet and sour combination of this recipe. Unfortunately, my kids find it strange. I only cook this when we have guests over for dinner. I hope you like it as much as I do. The recipe consists of two parts: preparation of the pork and the sauce.
Ingredients for pork
1/2 kilo pork tenderloin
4 tablespoons vinegar
4 tablespoons soy sauce
3 tablespoons sugar
1/2 head garlic, minced
1/2 cup cornstarch
1 egg
1/2 cup flour
Extra cornstarch for rolling pork
Oil for deep fat frying
salt and pepper to taste
Directions
1. Slice pork tenderloin into one inch pieces.
2. Marinate pork in vinegar, soy sauce, sugar and garlic for around 2 hours.
3. Drain.
4. Mix together with egg, flour and cornstarch.
5. Roll each pork in cornstarch mixture and deep fat fry.
6. Drain. Set aside and prepare sauce.
Sauce
6 tablespoons sugar
2 tablespoons vinegar
1 cup water
4 tablespoons catsup
1 teaspoon worcestershire or oyster sauce
1/4 teaspoon salt
2 tablespoons cornstarch (dilute with 2 tablespoons water)
2 tomatoes, sliced in wedges
2 medium sized onions cut into 8 pieces
1 stem celery , cut into 1 inch pieces
1 carrot, cut into round shapes
1/4 cup pineapple tidbits
1/2 cup green bell pepper, cut into 1 inch x 1 inch pieces
1/2 cup red bell pepper, cut into 1 inch x 1 inch piece
Directions in cooking sweet sour sauce
1. Mix the first 6 ingredients in a Kawali
2. Thicken with cornstarch mixture.
3. Add onions, carrots, celery, pineapple tidbits, tomatoes, red and green bell peppers.
4. Boil once, then add pork.
5. Serve hot.