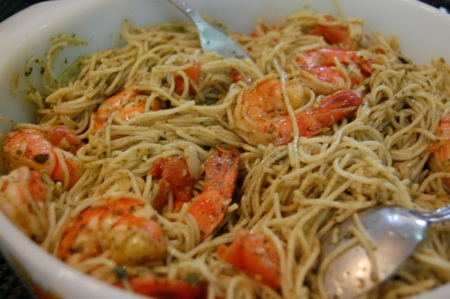 I started my herb garden when we moved to our new home. It's a great feeling to pick freshly homegrown basil and add it to our pasta. This afternoon, I cooked Shrimp and Pasta with Pesto sauce to make up for the Lechon Manok that I was supposed to buy.
Here is the recipe that is even beginners can follow.
Prepare the pasta
1. Boil 250 grams Angel Hair pasta. Don't overcook.
2. Set aside.
Prepare the Pesto sauce
4 cups Sweet basil leaves (full size)
4 garlic cloves
1/2 cup pine nuts or walnuts
1 cup Olive Oil
1 1/2 cups Parmesan cheese
Salt
Ground black pepper
Salt to taste
Directions
1. Pick full grown basil leaves from the stems.
2. Wash the leaves thoroughly and pat dry with paper towels.
3. Mix leaves, garlic, nuts and 1/3 of the oil in a food processor or blender.
4. Blend or process until smooth.
5. Add the 2/3 of the olive oil, cheese, salt and pepper.
6. Blend a few more seconds.
7. The resulting blend should be a dark green lumpy mixture.
8. Mix the pesto with the cooked pasta.
Prepare the Shrimps
1/2 kilo small tiger prawns
1/2 cup red tomatoes (diced)
one head garlic minced
1/2 cup Olive Oil
Directions
1. Heat Olive oil.
2. Saute garlic. When brown, add red tomatoes.
3. Add the prawns and cook until orange.
4. Add a dash of salt.
5. Toss the shrimp mixture to the pasta-pesto mixture.
Top with a sprinkle of Parmesan cheese.