Recipes today will be different. I attended an event organized by Argentina Corned Beef, the "Canned Cuisine Chef's Series" which aims to inspire kitchen creativity by bringing culinary experts and have them share their own corned beef recipe creations to consumers. Like most of you, I only prepare corned beef as "ginisang corned beef" or with diced potatoes. I don't normally offer canned goods to my family as daily fare but I do indulge every now and then. Just remember that high salt diet is not good for the kidneys and to always drink lots of water. I will share 6 recipes especially to my readers who choose to eat canned corned beef as a viand.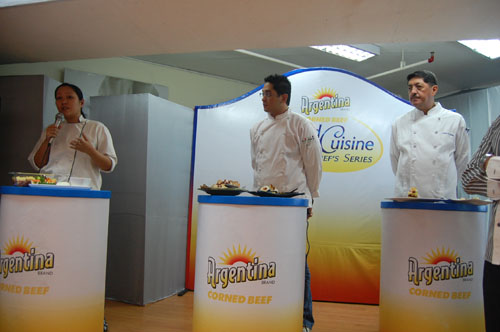 With a little kitchen savvy and a taste for reinvention, anyone can come up with unique corned beef dishes or meals that the whole family will find healthy and deliciously enjoyable. Showcasing the versatility of corned beef were Chef Eugene Raymundo of Five Cows Ice Cream Bar and Restaurant, Chef Sam de Leoz Jr. of the UST-Institute of Tourism and Hospitality Management and Chef Mia Carla Yan of the Heny Sison Culinary School and Magsaysay Institute of Hospitality and Culinary Arts. Each chef presented their own recipes of an everyday meal and a "Weekend Couture Cuisine" dish with corned beef as the main ingredient.
Chef Mia presented her Argentina Corned Beef Frittata and tummy-filling Easy Argentina Shepherd's Pie/ Cottage Pie.
Easy Argentina Shepherd's Pie/ Cottage Pie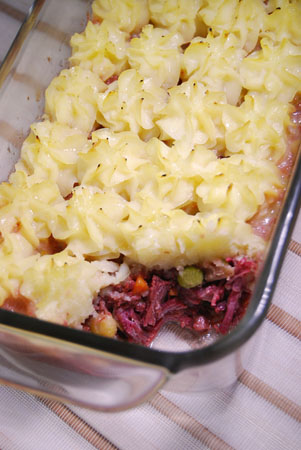 Ingredients:
1 kilo potatoes (3 big ones)
8 tablespoons butter
1 medium onion – chopped
1 cup mixed vegetables – diced carrots, corn, peas
2-175g cans Argentina Corned Beef
1 teaspoon Worcestershire sauce
1/2 cup beef broth
Salt, pepper, other seasonings of choice
Procedure:
1. Peel and quarter potatoes, boil in salted water until tender (about 20 minutes).
2. While the potatoes are cooking, melt 4 tablespoons butter (1/2 a stick) in large frying pan.
3. Sauté onions in butter. Add in vegetables and Argentina Corned Beef. Sauté for a few minutes.
4. Add Worcestershire sauce and beef broth. Cook, uncovered, over low heat for 10 minutes, adding more beef broth as necessary to keep moist.
5. Mash potatoes in bowl with remainder of butter, season to taste.
6. Place corned beef and vegetables in baking dish. Distribute mashed potatoes on top. Rough up with a fork so that there are peaks that will brown nicely. You can use the fork to make some designs in the potatoes as well.
7. Cook in 400ºF oven until bubbling and brown (about 30 minutes). Broil for last few minutes if necessary to brown.
Makes 5 to 6 servings
———-
ARGENTINA CORNED BEEF RED CURRY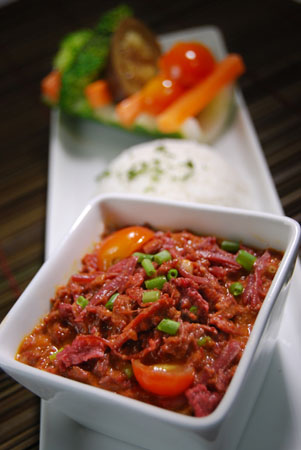 Ingredients:
1 tablespoon cooking oil
2 teaspoons shallots
2 teaspoons garlic
3/4 cup (120g) red cherry tomatoes
1-175g can Argentina Corned Beef
2 tablespoons (30g) red curry paste
1/2 teaspoon Thai fish sauce (nam pla)
1/4 cup water
2-3 tablespoons heavy cream
2 teaspoons chopped spring onions
2 teaspoon chopped fresh coriander
3-4 cups steamed rice
1/2 cup blanched broccoli and carrots
Procedure:
1. Heat oil in a sauté pan. Sauté shallots, garlic, tomatoes, Argentina Corned Beef and red curry paste.
2. Add water and simmer over medium to high heat until almost dry, about 3 to 5 minutes.
3. Season with fish sauce and stir in cream until the desired consistency in sauce is achieved.
4. Stir in spring onions and coriander before removing from heat.
5. Serve with steamed rice and vegetables on the side.
Makes 3-4 servings
————
2. Chef Sam's breakfast heavyweight Farmer's Lattice Omelet Corned Beef Wasabe, on the other hand, made the audience want to look forward to breakfast everyday. While the audience enjoyed the light, healthy goodness of his Rosti and Apple Stack Corned Beef with Apple Vinaigrette Dressing.
FARMER'S LATTICE OMELET WITH ARGENTINA CORNED BEEF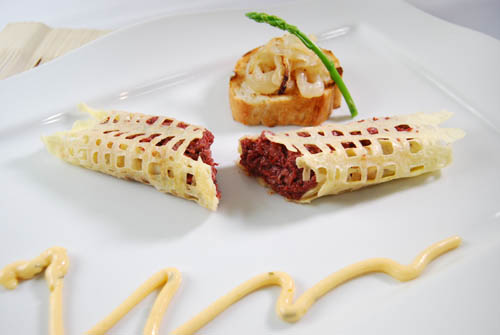 LATTICE OMELET:
Ingredients:
3 large eggs – beaten
1/4 cup fresh milk
Salt and pepper to taste
Pinch of nutmeg
Olive oil
1 tablespoon unsalted butter
GARNISH
Asparagus spears, blanched in stock
Caramelized onions
Procedure:
1. Combine eggs with milk and whisk with a wire whisk until frothy.
2. Season egg mixture with salt, pepper, and nutmeg.
3. Place egg mixture in a squeeze bottle.
4. Heat oil and butter in a small non-stick sauté pan. Drizzle the egg mixture to for a lattice pattern and cook until done.
5. Carefully peel off egg lattice and wrap around corned beef mixture.
SAUTEED CORNED BEEF:
Ingredients:
Olive oil
1/4 cup (60g) white onions, brunoise
2 clove garlic, mince
2-175g Argentina Corned Beef
Red wine for deglazing
1 tablespoon wasabe paste
Freshly ground black peppercorns
Procedure:
1. Heat the oil in a sauté pan and sauté onion, and garlic until aromatic.
2. Stir in the corned beef and mix well. Deglaze with red wine and simmer for a few minutes.
3. Mix in the wasabe paste to the corned beef mixture and season with freshly ground black peppercorns.
SAUCE CHORON for the Omelet
Ingredients:
Reduction:
1 tablespoon chopped shallots
1/2 teaspoon fresh-cracked whole black peppercorns
1 tablespoon dried tarragon leaves
1/3 cup (90ml) tarragon vinegar
1/3 cup (90ml) dry white wine
1/2 cup water
6 egg yolks
1 ½ cups clarified butter, warm
2 tablespoons dried tarragon leaves
1 teaspoon tomato paste
1/2 teaspoon salt, to taste
Procedure:
1. Combine the shallots, peppercorns, dried tarragon, vinegar and wine. Reduce to until nearly dry.
2. Add the water to the reduction; strain, if desired. Combine the reduction and the egg yolks in a stainless steel bowl. Whip over a bain-marie until the yolks form ribbons and triple in volume. They should be light but firm.
3. Add the clarified butter gradually, whipping constantly. Strain if necessary to remove any cooked egg particles.
4. Add the chopped tarragon and tomato paste; adjust the seasoning to taste with salt.
Makes 2 ½ cups sauce.
————-
APPLE STACK CORNED BEEF W/ APPLE VINAIGRETTE DRESSING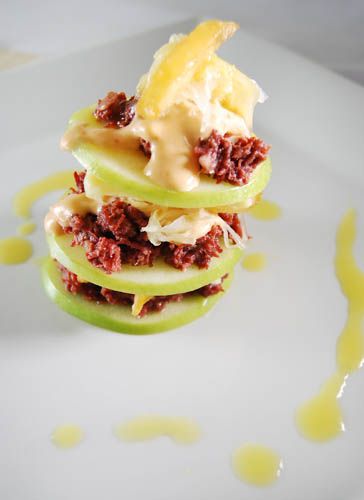 Ingredients:

RUSSIAN DRESSING
1 ¼ cups mayonnaise
1/3 cup chilli sauce
4 teaspoons prepared horseradish
2 tablespoons minced onions, blanched
3/4 teaspoon Worcestershire sauce
Salt, as needed
Ground black pepper, as needed
1 lb 4 oz/567g thinly sliced Swiss cheese
3 -175g Argentina Corned Beef – sautéed with onions and garlic
2 cups sauerkraut
2 cups French fries
1 large white onion, peeled, fine rondelle
FOR ASSEMBLY:
2 green rondelle apples, ¼ in/6 mm thick (using a mandoline)
Juice of half a lemon
APPLE VINAGRETTE:
3 tablespoons apple juice
2 tablespoons apple cider vinegar
2 teaspoons Dijon mustard
8 tablespoons extra virgin olive oil (EVOO)
Procedure:
1. To prepare the Russian dressing, mix together the mayonnaise, chilli sauce, horseradish, onions, and Worcestershire sauce. Season with salt and pepper.
2. For each sandwich, layer 1 slice of the cheese, 1 tablespoon of Russian dressing, 2 tablespoons of corned beef, French fries, 2 tablespoons sauerkraut and onion rings, on 1 slice of apple. Top with another 2 tablespoons of corned beef, 1 tablespoon of Russian dressing, and a second slice of cheese. Top with an apple slice.
3. Repeat procedure until you reach 3 layers. Finish with corned beef filling on top.
4. For the Apple Vinaigrette: Mix the apple juice, cider vinegar and Dijon mustard to a paste in a mixing bowl. Slowly whisk in the EVOO with a wire whisk until an emulsion forms.
———-
3. Chef Eugene's attractively colorful Flamenco Maki intrigued guests' taste buds for its sweetish-salty flavor; while his chewy Argentina Cheese & Mushroom Penne recipe reinvented pasta to suit the Filipino taste.
Maki de Buenos Aires/Flamenco Maki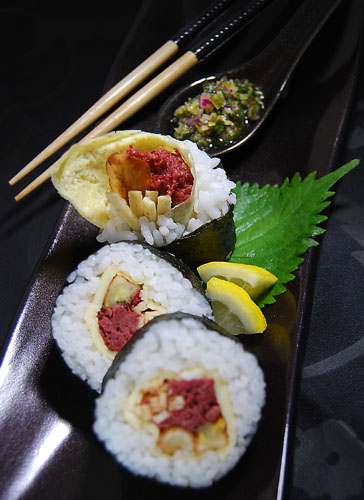 Ingredients:
1 recipe sushi rice
1 recipe maki filling
1/2 cup shoestring potato chips (piknik original flavor)
2 medium ripe saba, cut into 8 strips each and fried
6 large eggs, scrambled and cooked in a pan to make 4 thin
sheets
4 sheets nori, cut into halves
1 recipe chimichuri
serves 8
Procedure:
Place half nori on a bamboo mat and flatten about 1/2 cup of sushi rice. Place a sheet of egg over rice and place about 3 tbsp corned beef, potato sticks and 2 sticks of banana. Roll and tighten to hold shape. Repeat procedure and slice each roll into 8 pieces. Serve with chimichuri on the side or top each slice with 1/2 teaspoon of the sauce.
Sushi Rice
3 cups Japanese (sushi) rice, washed twice and drained
3 1/4 cups water
7 tablespoons rice vinegar
1 tablespoon mirin
3 tablespoons sugar
Place washed rice in a rice cooker and pour in water. Soak rice for 30 minutes before cooking. Cook rice until done.
In a bowl, blend vinegar, mirin and sugar and set aside until ready for use.
Spread the hot steamed rice into a large plate or a large bowl. Please use a non-metallic bowl to prevent any reaction with rice vinegar. It's best to use a wooden bowl called sushi-oke. Sprinkle the vinegar mixture over the rice and fold the rice by shamoji (rice spatula) quickly. Be careful not to smash the rice.
To cool and remove the moisture of the rice well, use a fan as you mix sushi rice. This will give sushi rice a shiny look. It's best to use sushi rice right away.
Maki Filling
1 tablespoon corn oil
1/4 teaspoon paprika
1/3 cup minced onions
2 tablespoons minced garlic
1/2 teaspoon chili flakes
2 tablespoons minced parsley
2 175g Argentina Corned Beef
3 tablespoons red wine
pinch pepper
Procedure:
Heat oil in a pan. Sauté garlic, onions, chili flakes and paprika. Add in corned beef ,wine and pepper and cook for a few minutes until almost dry. Set aside.
Chimichuri
1/2 cup chopped parsley
4 teaspoons minced garlic
1/4 cup extra virgin olive oil
2 tablespoons wine vinegar
zest of 1 lemon
1 lemon, juice extracted
1/2 teaspoon salt
pinch cayenne pepper
pinch pepper
Procedure:
Blend all ingredients well and season to taste.
———-
Argentina Cheese & Mushroom Penne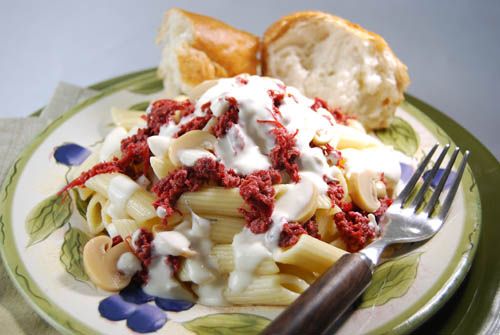 400 grams penne, cooked according to package directions
2 tablespoons extra virgin olive oil
3 tablespoons butter
1/2 cup chopped onions
3 tablespoons minced garlic
1/2 teaspoon dried rosemary
1/2 teaspoon dried basil
1/4 teaspoon dried oregano
pinch chili flakes
100 grams chopped oyster mushrooms or quartered fresh button
mushrooms
2 175g Argentina Corned Beef
3 tablespoons flour
1/2 cup cream cheese spread
1 tablespoon parmesan cheese
1 cup heavy cream
2/3 cup beef stock
salt and pepper to taste
Procedure:
Sauté garlic, onions, chili flakes and herbs in oil and butter. Add in mushrooms and cook for a few minutes. Add in corned beef and flour until heated through. Blend in cheeses, cream and stock and bring to a boil. Season to taste with salt and pepper and simmer for 2 minutes. Toss in pasta. Serve immediately and top with chopped parsley and parmesan cheese if desired.
Serves 6
——–
Argentina Corned Beef claims that their canned corned beef are fortified with Zinc and Iron. Zinc helps kids grow taller and strengthens their immune system, while Iron promotes brain development and good memory. Together, Zinc and Iron promote kids' physical and mental development.
So there you have six recipes that you might one day need when you are sick and tired of preparing just plain Sautéed corned beef with onions or potatoes.