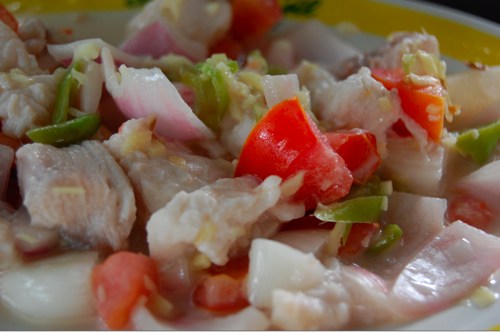 Just looking at the photos makes me want to eat more kilawin or kinilaw na isda. One can use either tuna or lapu-lapu fillets to make this dish. I always associate the Kinilaw with a beach outing. Preparing dishes with vinegar ensures there is little chance of food spoilage. The fish is "cooked" using vinegar as the meat turnes opaque in color. Though kinilaw may not be as popular as adobo, it certainly has a one-of-a-kind taste that many Pinoys abroad crave for.
In Philippine Food and Life (released by Anvil Publishing in 1992), Gilda Cordero-Fernando narrates of an Ilokano group who, during the Spanish period, were part of the crew English navigator Thomas Cavendish's ship. Right after the sailors threw all the intestines of a goat into the sea, the Ilokano assistants dived into the sea for their kilawin — dipped or cooked in bile sauce or broth. The chronicler, who was ignorant of what the Pinoys were preparing, described the dish as "a disgusting mess."

Not only goats, which is believed to be a good source of protein and calcium, however, may be made into kilawin. Beef, carabeef, fish, shelfish, including octopus are also popular options.
(Sources: Alegre, Edilberto N. and Fernandez, Doreen G. "Kinilaw: A Philippine Cuisine of Freshness." Bookmark Inc.,1991;Cordero, Gilda Fernando. "Philippine Food and Life." Pasig City: Anvil Publishing, 1992)
Kilawin na isda is so easy to prepare too.
Here are the ingredients:
1/2 kilo tuna or lapu-lapu fillets cut into 1 inch cubes
1/2 cup of coconut cream (check Extract coco milk)
1/2 cup kalamansi juice
1 1/2 cup vinegar
1 onion, sliced
1 onion, diced
4 slices of ginger, sliced
1 head garlic, minced
1 red bell pepper, cut into squares
1 green bell pepper, cut into squares
3 chili peppers, sliced into halves
salt and pepper
Preparation
1. Cut the fillets into 1 inch cubes. Season with salt and pepper.
2. Add the vinegar and chill for a 2 to 4 hours.
3. Drain the fish.
4. Add the onions, garlic, ginger, bell pepper, chili pepper, onions and calamansi juice. Mix well.
5. Add the coconut cream. Serve cold.
It's simple but it just takes more preparation time cutting all those ingredients.