Malunggay or moringa is a favorite vegetable these days because of its nutritional value. Fresh malunggay leaves are the most nutritious part of the plant, being a significant source of vitamin B6, vitamin C, provitamin A as beta-carotene, magnesium and protein. However, like most plants heating malunggay above 140 degrees Fahrenheit will destroy some of the nutritional value. Just the same, having malunggay leaves in bread not only adds interesting accent but fiber as well.
The malunggay garlic baguette is not for the beginners. You should have some background on baking breads or some knowledge on baking. But if you can't bake, you can always mix fresh malunggay leaves into garlic-butter mixture to toast on a freshly-baked baguette bought at the grocery.
You could try to experiment and try baking: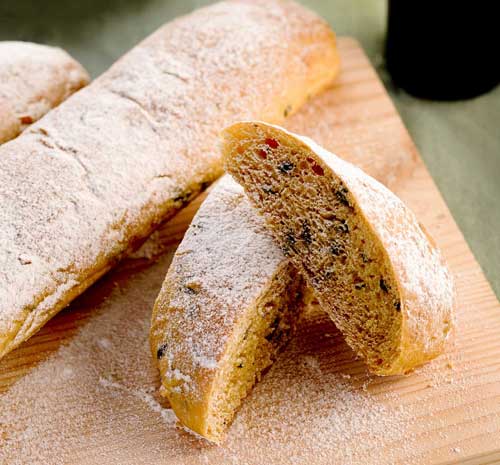 50 grams Malunggay leaves
1 ¾ cups water
1 tablespoon yeast
¼ cup water (from the boiled malunggay water)
1 teaspoon salt
2 tablespoons honey
3 tablespoons molasses
30 grams garlic, minced
3 cups LFM Bread Flour
1-1 ½ cups MAYA All-Purpose Flour
½ cup powdered milk
¼ cup melted butter
Recipe:
1. Boil malunggay leaves in water for 5 minutes.
2. Separate ¼ cup malunggay water. Set aside.
3. Cool down and put the remaining malunggay mixture into food processor and run for a few seconds, just to crush leaves. Set aside.
4. Dissolve yeast in ¼ cup warm malunggay water.
5. In a bowl, combine the rest of malunggay water, salt, honey, molasses, garlic, flours and powdered milk.
6. Stir in dissolved yeast.
7. Mix well then knead until smooth and elastic. Add in the butter while kneading the dough.
8. Transfer dough to greased bowl and let it rise for 30 minutes or until double in bulk.
9. Punch down dough then divide into five portions.
10. Shape into baguette rolls then put in greased French bread pans.
11. Let it rise until double in bulk.
12. Bake in a preheated oven 375°F/190°C for 25-30 minutes or until golden brown.