Pasta is usually easy to prepare. Here's the twist here. You will need to make your own pasta but of course you can skip that part and just buy pasta ribbons. I first learned to make homemade pasta when my mom bought a pasta maker. I have had it with me for many years until Ondoy damaged my small Kitchen appliances . You might want to experiment with homemade pasta even without a pasta maker. It isn't that hard since you will just form ribbons.
Here's the recipe: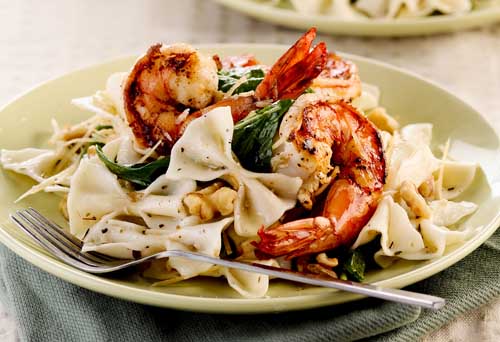 Homemade Pasta:
2 cups MAYA All Purpose Flour
1 teaspoon salt
1 piece egg
¼ cup water
8-10 pieces prawns, peeled and deveined
juice of half lemon
salt and pepper to taste
2 tablespoon olive oil,
2 tablespoon unsalted butter
1 tablespoon garlic minced
1 piece small onion, chopped
½ teaspoon dried herbs (oregano, basil, thyme)
300 g cooked homemade pasta, ribbon like shape
salt and pepper to taste
50 g fresh arugula leaves
First let us make some home made pasta:
1. Sift flour and salt in bowl.
2. Make a well at the center then add egg and water.
3. Mix then knead until smooth. Let rest for 10-15 minutes.
4. Pass dough through pasta machine or roll out using rolling pin.
5. Cut into strips or ribbon like shape as desired. Set aside.
The grilled prawns:
1. Marinate prawns in lemon juice, salt and pepper. Grill and set aside.
2. Heat oil and butter in a pan. Add in garlic and onion. Sauté until onion becomes translucent.
3. Add the dried herbs. Toss pasta and season to taste. Mix in arugula leaves and toss again.
4. Arrange shrimp on top.
For more recipes, other culinary ideas and course schedule, log on to www.themayakitchen.com.