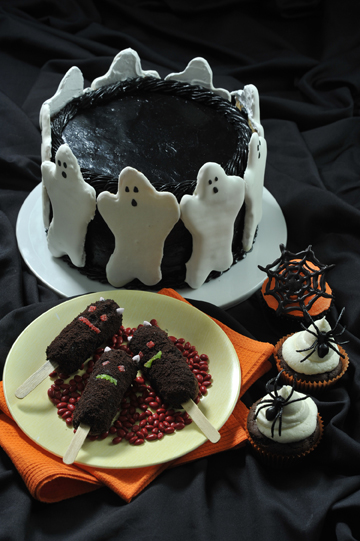 Next to Christmas , Halloween has got to be the most awaited holiday for my growing kids. During those internet-less days, I scrounged around for ideas from magazines just to make Halloween day wickedly fun. I served food with orange color themes, and even decorated my home with pumpkins and ghouls. After the trick or treat fun, my kids and their friends often troop to our house for culminating party. Now here is where one needs to be creative and present a frighteningly Delicious Halloween Spread.
I am sure a lot of moms out there want to think of creative ways to spice up their celebration. Let me share you some wickedly tasty goodies especially created by The Maya Kitchen. Chocolate cupcakes get bright orange icing then topped with melted chocolate webs and hair-raising spiders. Hotdog waffles get dipped in rich chocolate syrup and rolled in chocolate crumbs. Colored sweet gums create impish grins and devil eyes. A round chocolate cake is ringed by fondant-covered ghouls cookies with open mouth shriek and haunting eyes.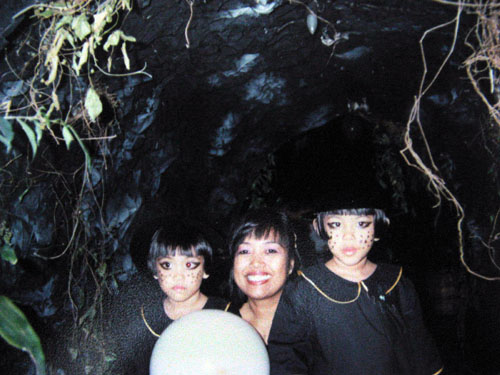 Halloween in 1991
These recipes will entail some basic knowledge of baking .
HALLOWEEN SPIDER WEB CUPCAKES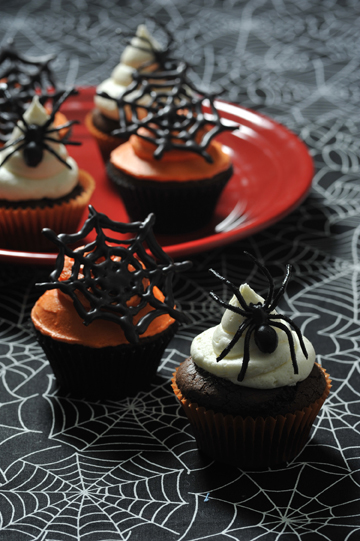 1 package MAYA Oven Toaster Chocolate Fudge Brownie Mix 230g
¼ cup butter
1 piece egg
1 tablespoon water
Buttercream Frosting:
¼ cup butter
¼ cup shortening
3 ½-4 cups powdered sugar
¼ cup milk
½ teaspoon vanilla
Orange food color
Halloween inspired candy decorations
Melted chocolate (for web)
Preheat oven and line 3-ounces muffin tins. Set aside. In a bowl, cream butter until fluffy. Add egg and water. Mix in the brownie mix until well blended. Pour the mixture into prepared muffin tins. Bake at 350°F/ 177°C for 10-15 minutes or until cake is done. Cool and set aside.
Prepare Frosting:
Beat butter and shortening until well mixed. Alternately add the powdered sugar, milk and vanilla until creamy. Divide mixture into two portions. Tint one portion with orange color and the other portion to remain as is. Set aside.
To Assemble: Fill pastry bag fitted with desired tip with icing and pipe out icing on top of each cupcake. Decorate with Halloween inspired candy decorations on top or using web stencil trace it using melted chocolate to create Halloween chocolate web.
MUMMY WAFFLE ON STICKS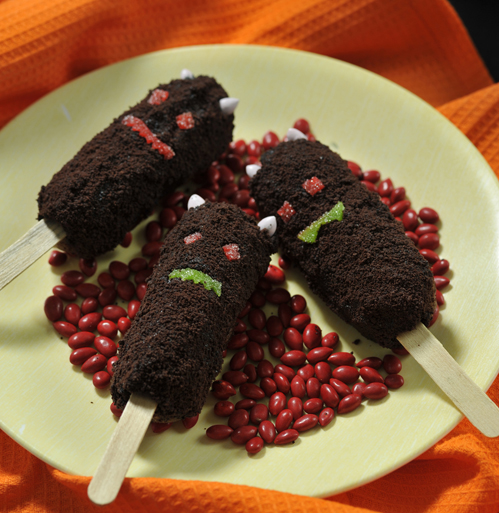 1 piece egg
2 tablespoons oil
¾ cup water
1 package MAYA Chocolate Hotcake Mix 200g
cocktail hotdogs, cooked
popsicle sticks
chocolate syrup
prepared chocolate crumbs (from left over brownie or chocolate cake)
assorted colored candies and licorice
Lightly grease and preheat waffle maker. In a bowl, beat egg then add oil, water and hotcake mix. Stir just until blended. Pour in little amount of hotcake mixture into waffle maker then put cocktail hotdog and pour more hotcake mixture to fully cover hotdog. Cook waffle until done. Set aside. Do the same procedure with the remaining mixture. Set aside to cool. To Assemble: Insert popsicle stick at one end of each waffle dog then dip into chocolate syrup, remove excess syrup. Cover waffles with chocolate crumbs. Create mummy face using assorted colored candies. Serve.
HAUNTED CAKE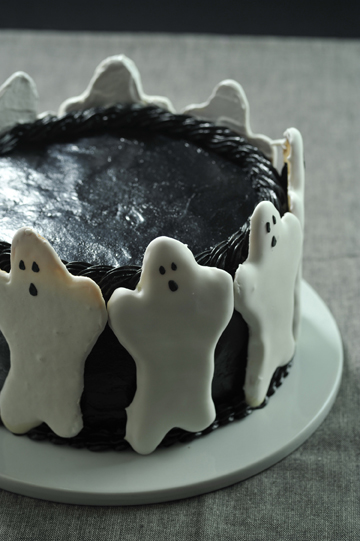 1 piece egg
½ cup water
3 tablespoons oil
1 package MAYA Oven Toaster Chocolate Cake Mix 200g
Butter Cream Frosting:
2/3 cup egg whites
1 cup sugar
1 cup butter
1 cup shortening
1 teaspoon vanilla extract
black food color
1 dozen Prepared ghost cut-out cookies
Poured Fondant:
9 cups confectioners' sugar
½ cup corn syrup
1 teaspoon vanilla extract
½ teaspoon almond extract
Preheat oven to 375°F/ 190°C. Grease and line 8 inch round pan. Set aside. Prepare Cake: Combine egg, water, oil and chocolate mix until well blended. Pour into prepared pan and bake until done. Cool and set aside.
Prepare Frosting: In a bowl, mix egg whites and sugar together over a simmering water. Whisk gently until egg whites are hot. Transfer mixture into a mixer bowl and beat in a high speed until thick and glossy. Then at low speed add butter and shortening one at a time. Add in vanilla extract and beat until well incorporated. Tint frosting with black food color. Set aside.
Prepare Poured Fondant: In a bowl, over simmering water. Mix all ingredients until well combined, smooth and warm.
To Assemble: Cover cake with butter cream frosting. Set aside a little of cream frosting. Get your cut-out cookies and fully cover with poured fondant. Cool and set aside. Decorate cut-out with ghost face design using reserved butter cream frosting. Use cookies as decors around the cake.
.
For more recipes, other culinary ideas and course schedule, log on to www.themayakitchen.com.