I am sharing some of your favorite Italian dishes from The Maya Kitchen . Chef Edgar Nama demonstrated Risotto Bravo, creamy Raviolli Con Spinachi, velvety PannaCotta, fall-off-the-bone Osso Buco, thin and crispy Quattro Formaggi Pizza, healthy Minestrone Alla Milanese and rich Pasta with Tuna Tuscan.
RAVIOLLI CON SPINACHI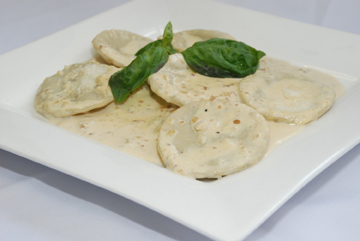 87 g egg pasta (prepared)
45 g spinach leaves
23 g cheese, ricotta
9 g cheese, parmesan grated
2 pieces egg, large
(makes for 10 ravioli)
Sauce:
1 cup all purpose cream
1 cup full cream milk
10g butter
5g parmesan grated
1g minced garlic
minced walnut
1. Blanch spinach in boiling water, squeeze out liquid.
2. Mince spinach.
3. Add ricotta, parmesan & eggs.
4. Mix well, chill for a while.
5. Roll out the pasta to desired thickness.
6. Put about 10grms of the spinach mixture into each portion of ravioli.
7. Cut & press edges with the cutter. Boil water and cook ravioli until al dente.
8. Lay out on the tray making sure that the pieces do not touch each other.
9. Heat together all purpose cream and full cream milk. Add butter and parmesan.
10. Pour sauce on top of cooked ravioli.
11. Sprinkle garlic and walnuts.
PANNACOTTA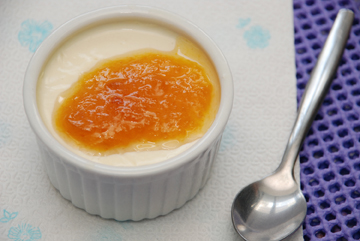 18.5 g whipping cream
18.4 g milk, full cream
1.9 g unflavored gelatin
1.7 g white sugar
1. Prepare all ingredients.
2. Mix whipping cream, milk sugar and gelatin.
3. Mix for 5 minutes or until the gelatin dissolves.
4. Cook in low fire for 15 minutes.
5. Portion into cups.
6. Drizzle with BRAVO Mango Jam
RISOTTO BRAVO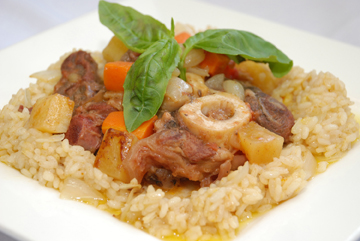 60 g risotto rice
24.1 g onions white minced
13.7 g butter unsalted
beef broth
1. Melt butter and cook onions in low fire for 10 minutes.
2. Add broth to onions and cook for 5 minutes.
3. Add risotto rice, slowly add hot broth (following 1:1 ratio of rice & broth)
4. Cook for 5 minutes.
OSSO BUCO
250 g beef shank
13 g MAYA All Purpose Flour
5 g rock salt
.5 g pepper, black ground
28 g butter unsalted, for sautéing
85 g white onions, chopped
65 g carrots small, cubed
75 g potatoes, ½ cubes
13 g celery "chopped"
25 g Mushroom button fresh "sliced"
56 ml white wine
38 g tomato whole peeled, Capri drained
25 g tomato water
.5 g lemon rind
.25 g water
1. Pre heat oven to 325°F or 160°C.
2. Coat meat in flour, salt and pepper mixture.
3. Heat oil in heavy pan over medium heat, add meat and cook in high fire until all sides are brown.
4. In another stock pot, melt butter, sauté onion until transparent.
5. Add carrots, potatoes, celery, mushrooms & beef broth & cook over medium heat until vegetables are cooked.
6. In a separate stock pot put meat and wine and cover with lid and let it boil for 1 minute.
7. Add tomato whole peeled, tomato water, lemon rind & water, cook for about 30 minutes.
8. Remove from heat.
9. Transfer meat mixture and vegetable mixture in a baking pan and cover with aluminum foil.
10. Bake for 2 hours or until meat is tender.
Minestrone alla Milanese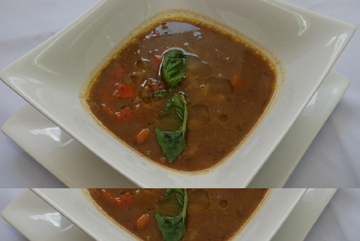 44 g bacon bits
63 g onions, white "diced"
beef broth
.5 liters water
320 g potatoes "diced"
70 g carrots, "diced"
25 g celery, "diced"
.6 g parsley flakes
19 g tomato, whole peeled
13 g tomato water
.1 kg kidney beans, red "soaked overnight" & pre-boiled
Salt and pepper to taste
1. Sweat bacon and add the onions.
2. Add beef broth and water.
3. When boiling, add all other ingredients.
4. Cook until the vegetables are cooked.
5. Get half of mixture and blend to puree.
6. Add to the rest of the vegetable mixture. Season to taste.
7. Just before serving drizzle small amount of olive oil on top.
PASTA WITH TUNA TUSCAN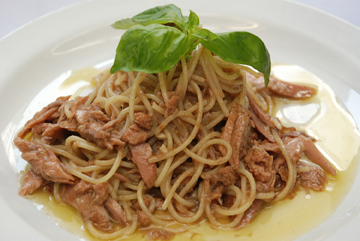 1 bottle of BRAVO Tuna Tuscan Sauce
90 g pasta
20 g olive oil
30 g minced garlic
120g tuna in oil
anchovy pieces to taste
Ground pepper to taste
1. In a pan, heat the BRAVO Tuna Tuscan Sauce.
2. Mix in the pasta and serve. OR
Sauté in olive oil the garlic, anchovy and canned tuna in oil. Season to taste. Mix in the cooked pasta and serve.
For other class schedules, culinary tips and recipes log on to www.themayakitchen.com or email [email protected].