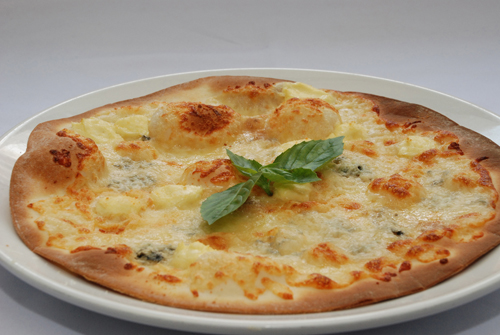 Pizza is an all time favorite especially if it has cheese in it or four cheeses in it. It is actually easy to prepare and even your kids can dish this up in no time. Quattro formaggi of course means four cheese, and traditionally those four cheeses include mozzarella, Gorgonzola, Parmesan, and a fresh creamy cheese such as Robiola or Stracchino. Bravo Ristorante Italiano whipped up favorite Italian dishes at The Maya Kitchen recently. Chef Edgar Nama deftly prepared buttery Risotto Bravo, creamy Raviolli Con Spinachi, velvety PannavCotta, fall-off-the-bone Osso Buco, thin and crispy Quattro Formaggi Pizza, healthy Minestrone Alla Milanese and rich Pasta with Tuna Tuscan. I will share these other recipes in another entry.
Here is the recipe. Remember you can always buy pizza dough at the frozen section of the supermarket. You can always make your own pizza dough . This recipe uses gorgonzola, parmesan, mozzarella and cream cheese. You can always use other cheeses such as stracchino, fontina or ricotta
120 g Pizza dough, prepared or make your own pizza dough
10 g cheese, cream
24 g cheese, gorgonzola
12 g cheese, parmesan grated
74 g cheese, mozzarella
62.5 g olive oil
1. Pre heat the oven to 400°F or 205°C.
2. Top the pizza dough with all the cheeses and place into oven.
3. Bake for 10-15 minutes in a regular oven.
For other class schedules, culinary tips and recipes log on to www.themayakitchen.com or email [email protected].