A few days ago, I received cupcakes as a birthday present. I really love cupcakes. First of all, I can handle the small portions. Secondly , I love the variety of flavors and its versatility in baking them. Third, it is an inexpensive gift idea and grant people a few bites of indulgence, even when money is tight. I am sure you have tasted a lot of cupcake varieties like Red Velvet, Vanilla, Chocolate, Lemon, Banana. June being the month of our independence is also the time to think Filipino. Why not transform the western cupcake into truly Pinoy creation like using our native ingredients?
The Calamansi Con Leche is one tasty. inexpensive, easy-to-make cup cake that you can bake with your child.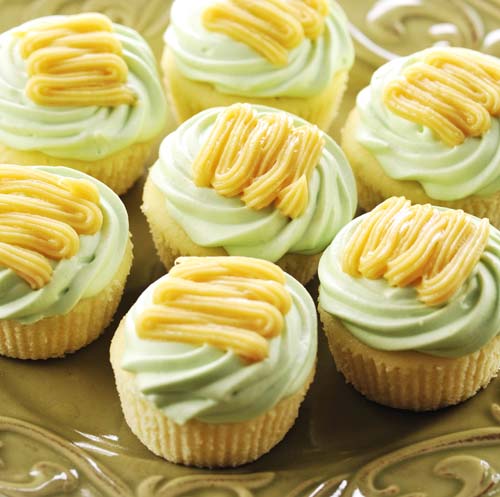 Here is a recipe shared by the Maya Kitchen
1 ½ cups MAYA All Purpose Flour
1 ½ teaspoons baking powder
¼ teaspoon salt
½ cup butter
1 cup sugar
2pcs. eggs
3-4 tablespoons calamansi juice
½ cup buttermilk (½ cup fresh milk + 1 ½ teaspoons calamansi or lemon)
Dulce de Leche:
½ cup condensed milk
1 cup evaporated Milk
1pc. egg yolk
1 tablespoon MAYA Cornstarch
½ teaspoon vanilla
1 tablespoon butter
Cream Frosting:
¾ cup all purpose cream
½ cup cooked dulce de leche
drops of green food color
Procedure:
Preheat oven to 350°F / 177°C. Line 3 oz. muffin tins with paper cups.
1. In a bowl, mix together flour, baking powder and salt. Set aside.
2. In a mixer bowl, cream butter and sugar until fluffy then add in eggs one at a time.
3. Mix in the flour mixture alternately with calamansi and butter milk. Continue mixing until smooth.
4. Fill each prepared muffin tins with batter until ¾ full and bake for 15-20 minutes or until done. Cool and set aside.
Prepare Dulce de Leche:
In a sauce pan combine the first 4 ingredients. Mix until cornstarch is dissolved then cook over medium heat until thick while stirring constantly. Remove from heat. Stir in butter and vanilla. Cool.
Prepare Cream Frosting: Whip cream until it doubles in volume. Fold in dulce de leche until well combined and tint mixture as desired. Set aside.
To assemble:
Spread some prepared cream frosting on top of the cupcakes and finish it off by piping the remaining dulce de leche on top of the cream frosting for added flavor. Serve.
Yield: 12 pieces/ 1 dozen
For more recipes, other culinary ideas and course schedule, log on to www.themayakitchen.com.