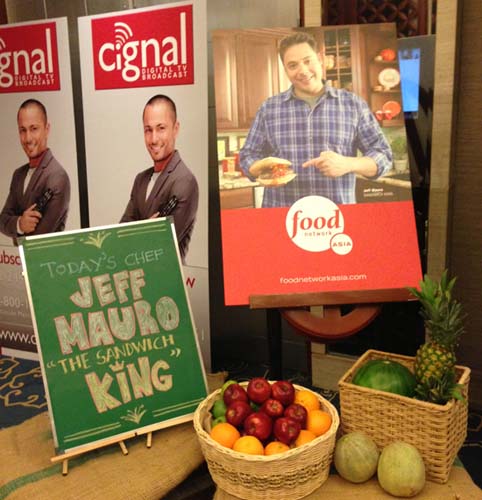 My dear friend Carlo Ople invited me to a Cignal event featuring Food Network's very own Jeff Mauro dubbed as the Sandwich King. Much to my delight, Jeff is not just any other chef. First of all, he is like a sandwich scientist. I never knew one can create varieties from waffle sandwiches to dessert sandwiches or wraps. Secondly, he is just too funny. I just had to approach him after the demo just to tell him "I like you. and I can't wait to watch your show".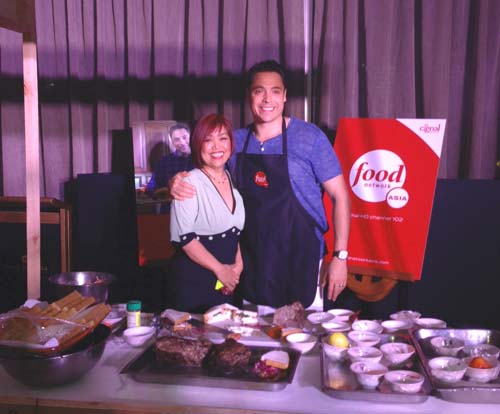 For most of us, sandwich is something to be eaten between two pieces of bread. In the case of Jeff Mauro, it's a lifestyle.
Food Network Asia describes his journey.
After competing and winning on season 7 of Next Food Network Star, Jeff was granted his very own Food Network programme. His hit show Sandwich King features a diverse array of recipes focusing on Jeff's number one culinary love. You can quickly see why he's fond of saying, "You can make any meal into a sandwich, and any sandwich into a meal."

Before joining Food Network, Jeff used to be an entertainer and comedian in Los Angeles. But the switch in careers hasn't changed his personality one bit – he's still just as funny and entertaining when cooking on Sandwich King. But there's a lot you don't know about Jeff – for example, he hates cottage cheese and curry. Learn more about Jeff below!
So no wonder he is so funny. You will be totally entertained with his sandwich making demos. He showed us how to make : Brisket sandwich with smoked Mozzarella and red cabbage coleslaw".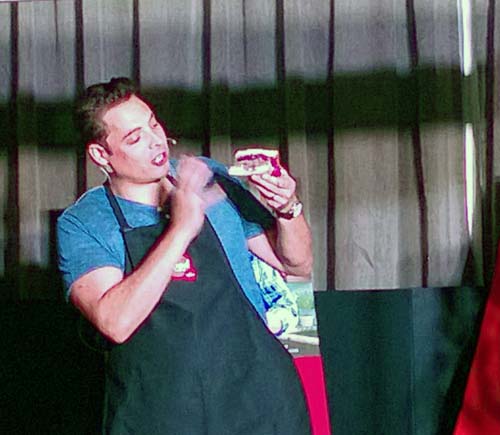 You ask, what are some sandwich making tips?
1. The first step in creating a sandwich is vehicle: what bread you want to use.
He suggested that a " meatloaf would do well with a softer bread, like a brioche bun so you can taste the soft texture of the meatloaf. "
2. Keep it simple
Just like Jeff, he believes in open-faced sandwiches. He believes one slice of bread is appropriate.
3. Practice proper rations.
He says "You don't want one ingredient to shine more than the others. It's harmonious. And if that means one slice of bread, so be it."
4. Texture is important
He explains that "a little bit a crunch from a homemade barbecue potato chip or a simple pickle makes a huge difference." That makes a sandwich even more appetizing. One needs a combination of soft and something crunchy in there.
And for his last tip, he said the filling should be nicely placed and "ribboned" in between so it is pleasing to look at.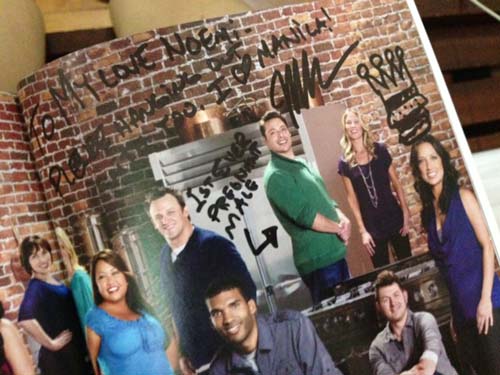 You can get to know more about him in the Food Network's 11 Facts About Jeff Mauro and check out his recipes. I am pretty fortunate to have actually sat down with him during dinner. He made sure he got to know our blogs and our twitter accounts. And lucky me to win a copy of "Food Network Star: The Official Insider's Guide" with a special dedication.
I am so excited to watch Season 3 and live by the motto "You can make any meal into a sandwich, and any sandwich into a meal." I am sure you will be entertained and informed as well.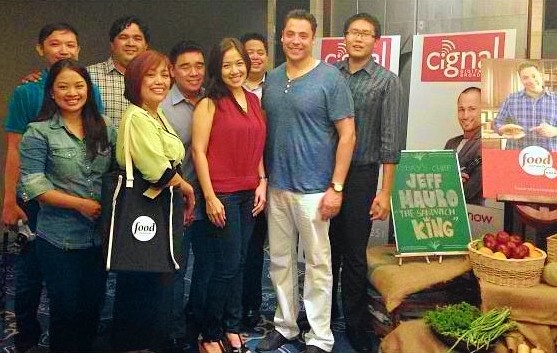 You can watch Jeff Mauro, the Sandwich King on the Food Network Asia Channel 66 via Cignal TV
Credits: Group photo via Brian Ong.