As young as nine years old, I got exposed to the bake shop my mom started. One of her best selling cakes is the Jelly roll. While vacationing in Manila as a teen , I found out that the Filipino version of jelly roll is called Pianono . The word "pianono" is derived from the Spanish Swiss roll cake Pionono. In fact, the cake was created in honor of Pope Pius IX; Pio Nono is Italian for Pope Pius IX.
In honour of this papal decree, Isla created a cake in 1897 that embodied the distinctive characteristics of Pius IX. The cylindrical base recalls his somewhat rounded personage, while the paper case in which it sits represents his white robes. A topping of toasted custard completes the likeness – this is the papal skullcap! To this day, it bears the name of this illustrious pope, for Pio Nono is Italian for Pius IX.
While I will share my mom's jelly roll recipe some day, here is an equally yummy Jelly roll recipe called the "Ube Pianono" as shared by Maya Kitchen in honor of Independence day month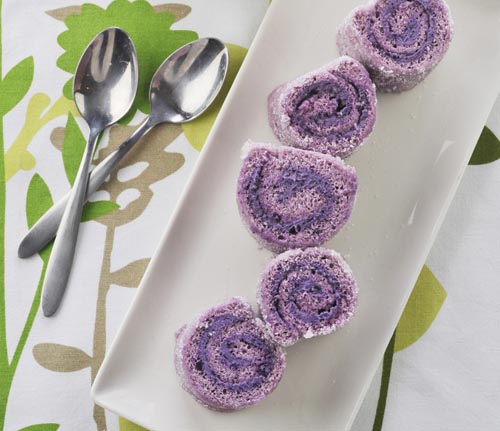 Cake:
1 cup MAYA All Purpose Flour
1 ½ teaspoon baking powder
½ teaspoon salt
¼ cup sugar
½ teaspoon vanilla
¼ cup + 2 tablespoon milk
½ cup boiled, mashed and strained ube or ube jam
4 pieces egg yolks, slightly beaten
¼ cup corn oil
½ cup egg whites
½ teaspoon cream of tartar
¼ cup sugar
½ teaspoon violet food color (optional)
Ube Frosting:
1/3 cup butter
½ cup confectioners' sugar
¼ cup milk
¼ teaspoon violet food color
1/3 – ½ cup prepared homemade jam or store bought ube jam
Procedure:
1. Preheat oven to 375°F/191°C. Grease and line with wax paper a jelly roll pan.
2. Sift flour, baking powder, salt and sugar into a bowl. Set aside. Mix together vanilla, milk and ube until smooth.
3. Add egg yolks and corn oil. Stir until well-blended.
4. Add this mixture to the sifted ingredients. Mix until smooth.
5. Beat egg whites with cream of tartar until soft peaks stage, then gradually beat continuously until stiff but not dry.
6. Fold in the ube mixture. Add food color if desired.
7. Pour into prepared pans. Bake in the oven for 25 to 30 minutes.
8. Loosen the sides of the cake. Invert cake on sugar dusted brown paper and roll tightly while hot. Cool completely.
Prepare Ube Frosting:
1. Cream the butter until soft and fluffy.
2. Add sugar alternately with milk and beat continuously until smooth.
3. Tint mixture with violet food color and beat in some ube filling for a more flavorful frosting.
To Assemble Pianono:
Unroll cooled cake. Spread ube frosting onto the cake and roll again.
NOTE: This can be made into layer cakes. Use 9-inch pans instead of jelly roll pan.