My first taste of Russian salad was from my aunt. I never knew one could make red beets into a salad. Russian salad prepared the Pinoy way is probably named as such because of the natural red coloring of the ingredients, red beet.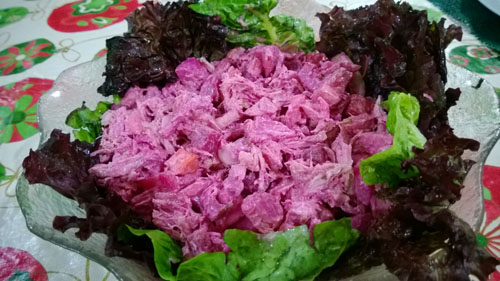 The salad taste sweet with a slight tangy flavor due to the tart apples and the vinegar marinade. It is basically a potato salad except that the natural red color of the beets seep through the potatoes and the other ingredients. In wikipedia, Russian Salad is not even colored red. A homemade variant of the Russian Salad contains carrots, ham, onions, pickled gherkins, eggs, sweetcorn, cucumber, peas, potato and mayonnaise.
I believe the Pinoy version of "Russian Salad" is very delicious. Try preparing it.
Ingredients
1 cup cubed cooked red beets, beta vulgaris or sugar beets (Known as remolatsa in the vernacular)
1 cup pineapple tidbits
4 tart apples (sweet red apples tend to be mushy)
mayonnaise (I buy reduced fat)
1/3 cup diced sweet ham
1 1/2 cup diced cooked chicken
3 cups cubed cooked potatoes
1 cup cubed cooked carrots
1/4 cup finely diced celery
vinegar, salt and pepper to taste
Continue reading Russian Salad, Variation of Potato Salad →

convert this post to pdf.