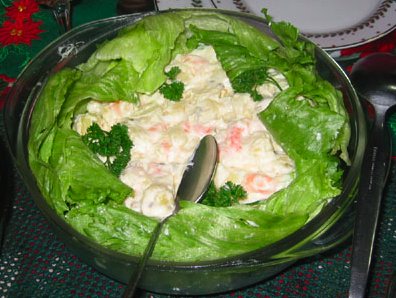 When I made Shrimp Potato Salad for my ex-boyfriend (now my husband), he was very impressed. He loved the salad. Salads are so easy to prepare so that's why I prepared this. I remember how I researched on the best combination for this salad. It's a composite of a lot of recipes. You can also revise the recipe. Here it is.

Ingredients
1/2 kilo Shrimps (boiled and shelled or buy the frozen shrimps)
6 cups cubed cooked potatoes (about 500 grams. I cooked them whole before cutting them into cubes)
3/4 cup Real Mayonnaise ( or use Reduced Fat Mayo)
1 teaspoon Pure Prepared Mustard
1/2 cup sliced celery
3 Tablespoons White Sugar
2 Teaspoons Calamansi Juice
1/4 cup onions, minced
salt and pepper to taste
DIRECTIONS
1. Mix mayo and mustard in large bowl.
2. Add potatoes, shrimps, celery and onions.
3. Mix lightly.
4. Season to taste with salt and pepper.
5. Refrigerate several hours or overnight.
Potato salads taste better after it has been stored in the refrigerator overnight. The flavors seep in through the potato making it delicious to the core. You can also add pickle relish or peas to add some color.