My first taste of Russian salad was from my aunt. I never knew one could make red beets into a salad. Russian salad prepared the Pinoy way is probably named as such because of the natural red coloring of the ingredients, red beet.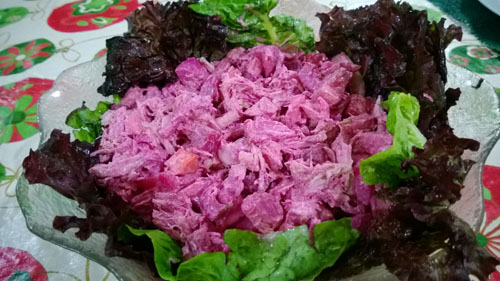 The salad taste sweet with a slight tangy flavor due to the tart apples and the vinegar marinade. It is basically a potato salad except that the natural red color of the beets seep through the potatoes and the other ingredients. In wikipedia, Russian Salad is not even colored red. A homemade variant of the Russian Salad contains carrots, ham, onions, pickled gherkins, eggs, sweetcorn, cucumber, peas, potato and mayonnaise.
I believe the Pinoy version of "Russian Salad" is very delicious. Try preparing it.
Ingredients
1 cup cubed cooked red beets, beta vulgaris or sugar beets (Known as remolatsa in the vernacular)
1 cup pineapple tidbits
4 tart apples (sweet red apples tend to be mushy)
mayonnaise (I buy reduced fat)
1/3 cup diced sweet ham
1 1/2 cup diced cooked chicken
3 cups cubed cooked potatoes
1 cup cubed cooked carrots
1/4 cup finely diced celery
vinegar, salt and pepper to taste

Procedure
1. Peel and dice apples and mix with a little mayonnaise. Mix the ham, chicken, potatoes, carrots and celery.
2. Marinate with a tablespoon of vinegar, salt and pepper.
3. Add mayonnaise, beets, pineapple, and apples mixed with mayonnaise.
The amount of mayonnaise depends on the amount of desired coating.
Taste your finished product before chilling the salad in the refrigerator. I usually serve the salad the day after as soon as the seasonings seep through the potatoes. I line the bowl with lettuce before adding the Russian salad.
That's it.
It looks really colorful at the table. Check out our Christmas day lunch.