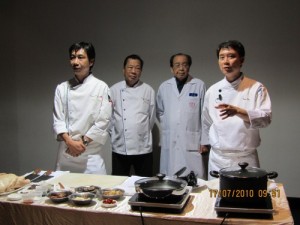 During the Singapore food festival 2010, I had the pleasure of meeting the Heavenly chefs (Mr Sin Leong and Mr Hooi Kok Wai of Dragon Phoenix and Red Star Restaurant) to showcase three very authentic and old school Cantonese dishes not popularly found today in menu menus like the Shunde Wild Pheasant , the Deep Fried Golden Pearls and a good old traditional braised duck. These recipes are not for beginners but of course you can try them.
Origin of the traditional braised duck

In Canton province of China, during festivals such as Cheng Ming, harvesting, etc., people used to gather in the ancestral hall to celebrate and thanks their ancestors for blessings given.
On such occasions, foods such as roast duck, roast meat, chicken etc., were brought as offerings. After some prayers, all these foods were placed into a big pot and stewed into a pot-luck delicacy where people gather around sharing the joy of the occasion.
Such practices initiated the creation of the famous Cantonese Dish "Peng Cai". The "Traditional Braised Duck" is one of these "Peng Cai" dishes which uses duck as the main ingredient.
Besides offering a harmonic combination of textures and flavors, this dish has a symbolic cultural significance as it symbolized unity and the sharing of joy. In the 40s, this dish was "migrated" together with a group of Cantonese immigrant into Singapore and became a popular dish in Chinese banquets.

In the Philippines, we also get to eat Braised duck in our Chinese restaurants. You will see here in the cooking method why one needs to order duck dishes a day in advance.
Ingredients: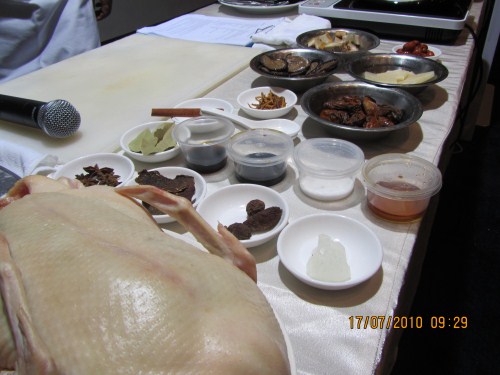 1. Fresh Duck 1 number (approx. 2kg)
2. Dried Oysters 12pcs (soak in water to rehydrate, pan-fry)
3. Preserved Vegetables 125g (soak in water to rehydrate, slice into 12 pcs)
4.Red Dates 12pcs (rinse with water, remove seeds if any)
5. Roast Meat 12pcs
6. Shitake Mushroom 12pcs
7. Dried Orange Skin 1pc (approx. 5g soak in water to rehydrate, fine Julian cut)
8. Water 2kg
9. Rock Sugar 1pc (approx. 30g)
10. Hua Diao Wine 40g
11. Salt 10g
12. Soya Sauce 100g
13. Cooking Oil 3kg
14. Ginger 1pc (approx. 30g, smashed)
15. Spring Onions 2 stocks
16. Dried Bay Leaves 2-3pcs
17. Dried Amomum Fruits 2-3pcs (also known as cardamnon)
18. Star Anise 2pcs
19. Cinnamon Stick 1pc
20. Cornstarch 2 tbsp
21. Water 50ml
Cooking Method:
1. Clean duck (ingredient 1) with water, cut duck open from back, apply soya sauce evenly on the duck (ingredient 11), set aside, ready for use.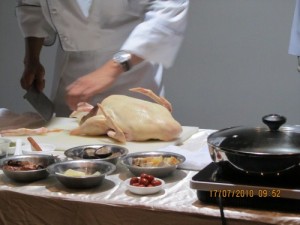 2. Heat up a wok of oil (ingredient 13) bring temperature between 180°-200° C, deep-fry the duck till golden brown.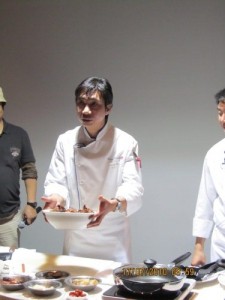 3. Place whole duck into a large casserole, rinse duck in water to remove excess oil.
4. Strain away excess water, add ingredients 8-11, and ingredients 14-19 into duck.
5. Place duck into steamer and braise duck for 2hrs. till soft; thereafter, remove back & breast bone.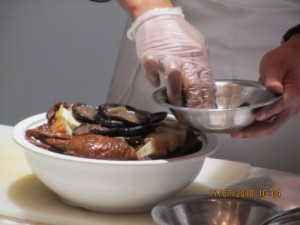 6. Place ingredients 2-7 into duck.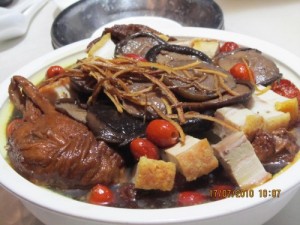 7. Place duck back into the steamer and braise duck for another 45mins.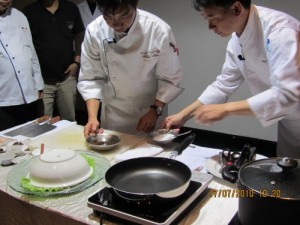 8. Thereafter, flip casserole on to a big plate, drain off juice into a bowl, and remove casserole.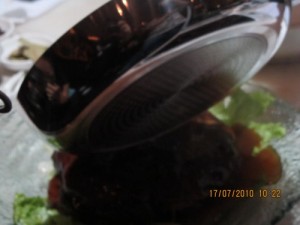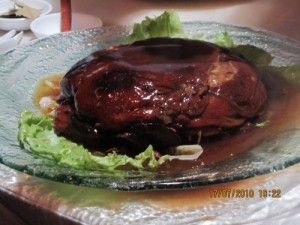 9. Pour juice into cooking pan, heat up to reduce the juice into sauce, thicken with corn starch, pour sauce on duck before serve.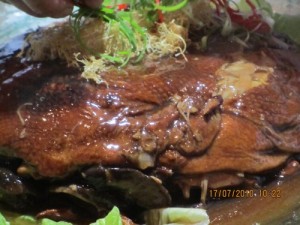 Check for the Makansutra Master Classes during the Singapore Food Festival 2010.
Credits: Makasuntra Culinary Master classes