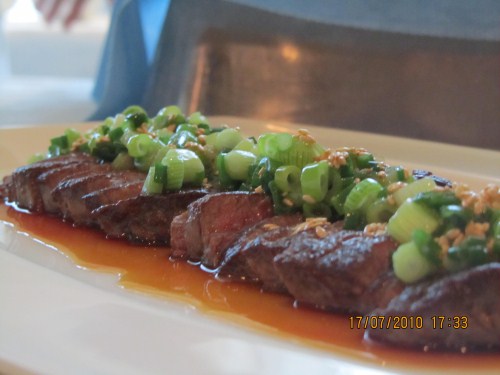 What I love about attending the Singapore Food Festival (July 16 till July 24, 2010) are the cooking demonstrations by the chefs. Not just your ordinary chefs, mind you. Mandarin Oriental Singapore hosted a cooking demo with celebrity chef Eric Teo. He is so funny as he interjects wit and humor every now and then to the demonstration. We were so honored with his presence because he is the president of the Singapore Chefs Association. Here is a simple recipe that you can even cook and the taste is so distinctly Asian that you will just love it. Sesame oil is an ingredient I often use in my Asian cooking.
Ingredients:
2 x100 grams. beef tenderloin fillet, season with salt and pepper
100 grams spring onions sliced
100 grams corn oil for cooking
100 grams sesame oil
30 grams sliced ginger
30 grams sesame seeds toasted
50 ml kikoman
100 grams water
50 grams honey
Braised daikon as base (Daikon is a long white radish: a long sweet white radish used in Asian cuisines. )

1. To prepare sesame dressing , place the honey, kikoman, sugar in large mixing bowl.Mix well and add water to dilute. Add in sesame oil and seed to engance the flavor.
2. To prepare braised daikon: make a dashi stock and poach the daikon till soft. Remove and set to cool. Slice into a a long rectangular shape
3. To prepare the beef, heat up a sauted pan over high heat, add a little corn oil and place the beef on the hot pan.
Sear each side (high heat) for about 30 seconds and set aside to rest.
In the same pan, add the spring onion and saute quickly with a little sesame dressing , then remove.
4. Slice the beef tenderloin into julienne slices and arrange in serving dish. Pour the sesame dressing over the beef slices . Garnish with green onions
Serves 4.
Thank you Eric Teo for the recipe and Mandarin Oriental Singapore for the cooking demo.