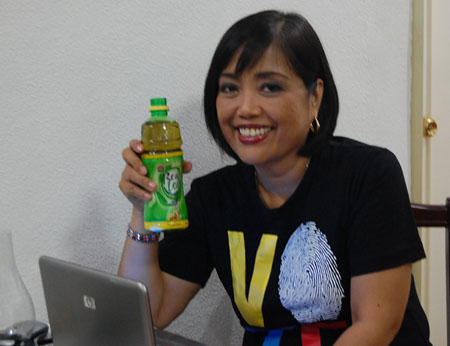 Let's all take a break. Allow me to share something I do whenever I take a break from the kitchen. I drink iced tea.
I drink iced green tea because it is refreshing on the mind and body. It is that perfect perk-upper that helps take away the stress and keep me right on track. I don't settle for just any green tea drink. Real Leaf Green Tea is stocked in my pantry every weekend because I know it is made from natural green tea leaves that is deliciously blended with the natural sweetness of honey. The Honey Apple, Honey Lemon and Honey Lychee flavors add variety to my choices for the week.

I know that with every sip I take I become more refreshed and focused because I get a good dose of theanine, an amino acid that is naturally found in tea plants. The hint of gentle sweetness from the honey and the dose of theanine make up a deliciously reviving formula which is just what I need to continue relishing life on the fast lane.
Some fun facts of Real Leaf Green tea which you might find handy the next time you're shopping in the grocery store to pick the right tea beverage for you and your friends.
1. Green tea leaves used are sourced all the way from the Zhejiang region of China, the country that produces more than 70% of the total green tea output in the world. The brewing process in Real Leaf follows only world-class standards based on years of experience and expertise of The Coca-Cola System. The result? Optimum freshness, quality, aroma and all the rewarding benefits of natural tea are unquestionably retained.
2. Honey with its low calorie level, is an excellent substitute for sugar in drinks and food. It contains vitamins, minerals and amino acids and can even help prevent your seasonal allergies and is a good source of antioxidants. This unique ingredient makes all the difference with this iced tea drink.
Know more about Real Leaf Green Tea from:
Facebook: http://www.facebook.com/realleaf
Twitter: http://twitter.com/realleaf