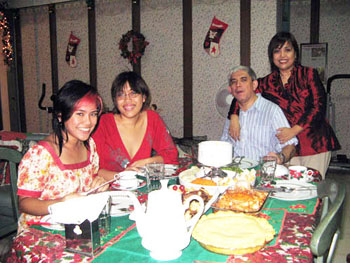 That's me and my family in last year's Christmas Eve Noche Buena. I am sure a lot of you are planning your noche buena dishes for Christmas and New Year. That's why you are here. I have my black book of recipes that serve as my recipe resources. I like to do a lot of preparation just before the actual cooking so I don't get stressed out. Here are a few recipes that I have cooked in the past. Some don't have photos yet because years ago, I didn't think I'd put them in a food blog. This page will be updated often so bookmark this page for the rest of December.
There are Holiday Cooking Ideas and recipes and also places to buy if you don't want to bother cooking or baking:
Pochero
Chinese Ham
Paella
Chicken Relleno
Max Fried Style Chicken Recipe
Chicken Cannelloni
Pork Barbecue
Cheese Fondue
Embutido
Bam-i, Cebuano Pansit
Baking
Fruitcake Recipe
The Gingerbread Man Cookies
Christmas Sugar Cookies
Perfect Chocolate Chip Cookies
Blueberry Cheesecake
Apple Pie
Food for the Gods

Filipino Desserts
Order Holiday Food or Noche Buena Dishes
Majestic Ham
Cochinillo, Roast Suckling Piglet
Roast Turkey
Pancit Lucban
Lechon Paella
Embutido, Chicken Relleno, Chicken Galantina, Pastel de Lengua, Paella Valenciana

Filipino Delicacies

Dolor's Kakanin
Kakanin: Rice Cakes, Puto
Suman
Puto Bumbong at Taste Asia
Puto Bumbong at Via Mare
Bibingka

Low sugar/Low Fat/ Low Carb Desserts
More to Follow…bookmark this page
Have a Merry Christmas and a Happy Holiday! Here are a few Philippine Christmas songs for your noche buena.