A surprise package awaited me and to my delight, the basket contained Lady's Choice Mayonnaise and Royal Elbow macaroni , two ingredients of the many, needed for Chicken Macaroni salad.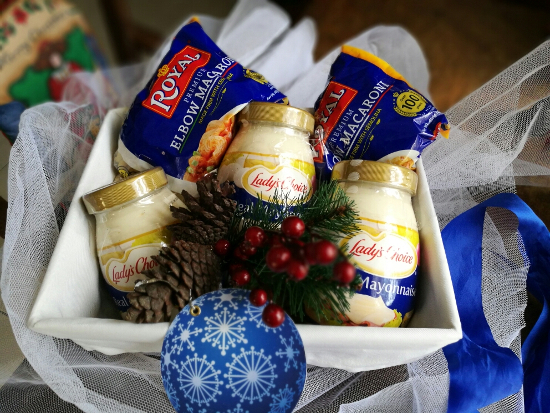 When I think of Chicken Macaroni salad, I remember myself as a teenager, assigned by mom as the salad maker. Come to think of it, I also used Lady's Choice Mayonnaise and Royal macaroni .  Do you remember ?
Receiving this basket brought back  memories of preparing this salad with my mom. I decided to prepare Chicken Macaroni salad for a small Christmas party at home.
As a teen, Chicken macaroni salad was easy to prepare but I had to ask help in boiling the macaroni though and after that, it was a matter of mixing all the ingredients. My mom assigned me that task , every Christmas eve or for the noche buena. Her style was different. The Chicken breast was shredded. The cheese was shredded . There wasn't much color on the salad except a sprinkling of pickle relish and the yellow of the pineapple tidbits. Let me share how I innovated the classic salad into my own version of  Chicken Macaroni salad .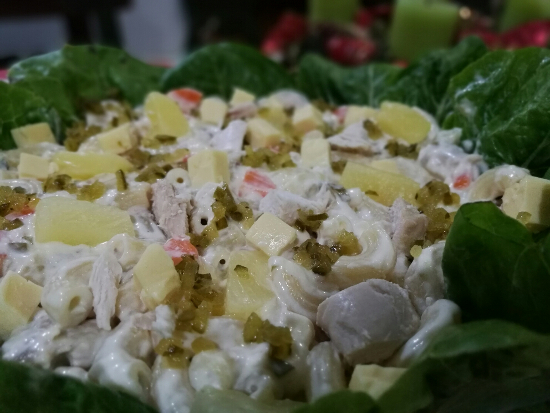 I diced the chicken breast instead of flaking it. I did the same to the queso de bola. Oh , I remember it was just shredded cheddar cheese on the top of the macaroni salad.   My mom never used carrots but I wanted some color . I also made sure to leave some for garnishing the  salad  to make it look more festive.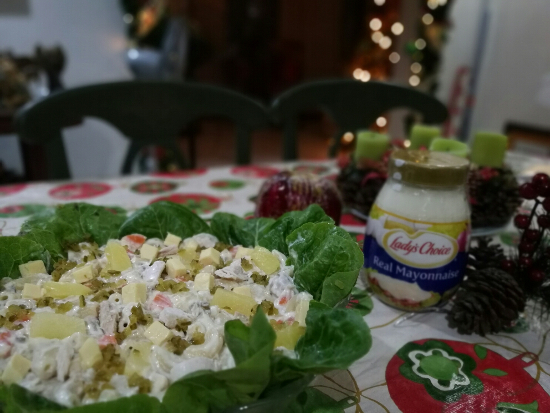 Ingredients
400 grams Royal Elbow macaroni, cooked (check package for cooking instructions)
1 kilo boneless chicken breast, boiled and diced around 1/2 inches
1 1/2 cup pineapple tidbits, drained
1 1/2 cup Queso de bola, cubed
1 cup pickle relish
1 cup diced carrots, previously boiled
1 bottle Lady's Choice  mayonnaise , 700 ml.
1/4 teaspoon garlic powder
1 teaspoon white pepper
1 teaspoon salt
Garnishings
1 TBsp of pickle relish
2 TBsps of pineapple tidbits
2 TBsps of diced queso de bola
Lettuce to line the salad bowl

Directions
1. Boil the Royal elblow  macaroni as directed in the package
2. Place the macaroni in a large mixing bowl.
3. Add the carrots, pickle relish, diced queso de bola and pineapple tidbits. Mix well.
4. Lastly, add the diced chicken and mix well.
5. Mix Lady's Choice mayonnaise into the mixture.
6. Add garlic powder, salt and pepper to taste
7. Transfer to serving bowl and garnish.
8. Chill overnight  before serving