Preparing Pasta Puttanesca with gourmet tuyo using Contadina olive oil, Contadina diced tomatoes and minced tomatoes with  green olives, black olives, capers, gourmet tuyo and parmesan cheese.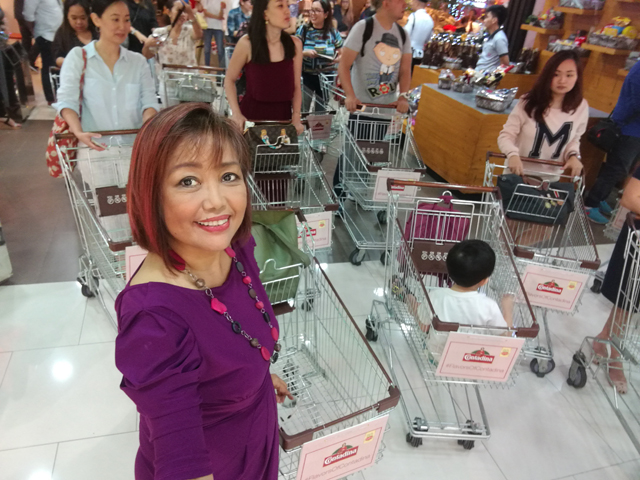 Christmas is around the corner and at this time of the year, moms like myself are busy planning for noche buena. I was pretty excited when Contadina held a one-of-a-kind grocery shopping experience with culinary enthusiasts ranging from home cooks, foodies, and bloggers.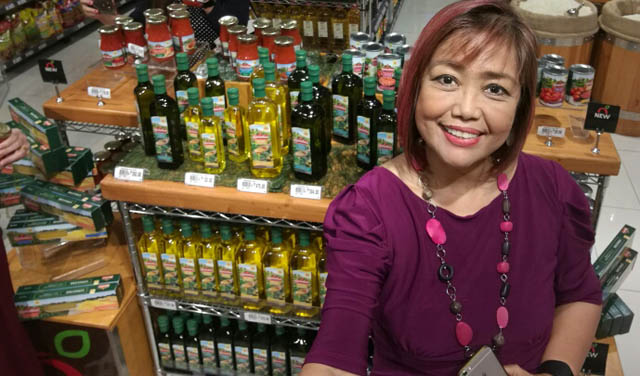 I already knew the recipe I would cook for Nigella Lawson, a domestic goddess and face of Contadina Philippines.
Pasta alla Puttanesca.  Nigella talked about this recipe
Well, how could I resist this translation of pasta alla puttanesca, whore's pasta as it usually is described in English?
She even calls it the "sluts' spaghetti".  She added that "the general consensus seems to be that this is the sort of dish cooked by slatterns who don't go to market to get their ingredients fresh, but are happy to use stuff out of jars and tins. I hold my hands up to that. Or maybe one should just attribute the name gamely to the fiery tang and robust saltiness of the dish?"
I have cooked Puttanesca before and it is so easy to prepare. I think it is also very festive and a great dish to serve during noche buena.  And not heavy on the tummy.
There, we were at Robinsons Selection at the Venice Piazza for a treat to a supermarket raid to allow us to source the ingredients needed for our recipes.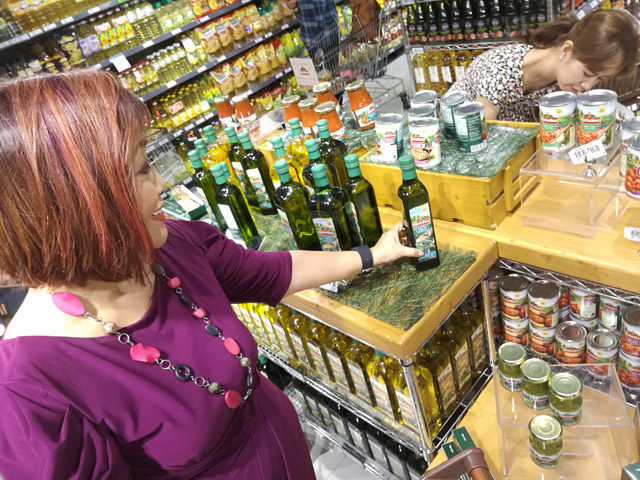 For the Pasta Puttanesca, I wanted to add a Pinoy flavour . Instead of anchovies, I used gourmet tuyo.
Unfortunately, I did not complete my task under a time limit because Pasta Puttanesca required many ingredients.  I needed Contadina olive oil, Contadina diced tomatoes, Contadina minced tomatoes, green olives, black olives, capers, gourmet tuyo and parmesan cheese. Let me show you my recipe.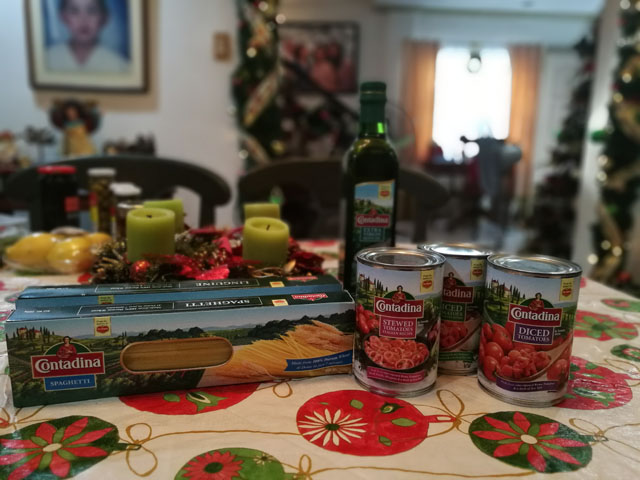 Ingredients:
1 box Contadina Linguine (500 grams)
2 cans Contadina diced tomatoes (1 1/2 cans of diced tomatoes for the sauce while the rest for garnishing)
1 can minced tomatoes
5 garlic cloves, minced
8 pieces, gourmet tuyo , spicy
3 tbsp Contadina olive oil
1/2 cup black olives
1/2 cup capers
1/4 cup pitted green olives
1/4 cup chopped basil leaves
Pepper
Garnishing
small basil leaves
green olives
black olives
drained diced tomatoes
gourmet tuyo slices
parmesan cheese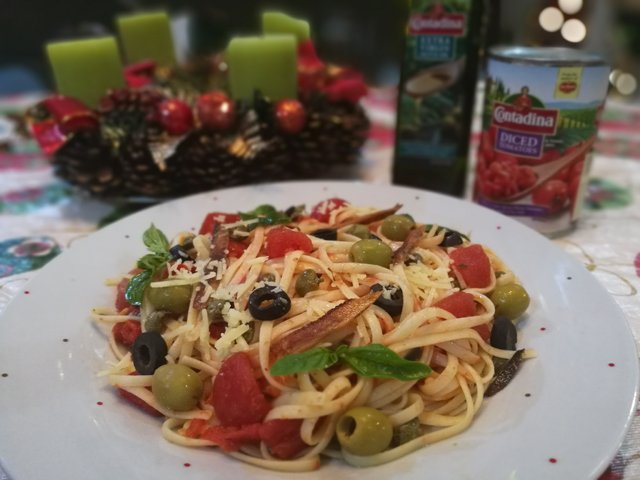 PREPARATION
1. Cook Contadina Linguine in a pot of boiling salted water as directed in the package until barely al dente. Drain pasta
2. While pasta boils, prepare the pasta sauce.
Saute the garlic in oil in a skillet in medium-high heat until fragrant and pale golden, about 2 minutes.
3. Add the gourmet tuyo , followed by the Contadina diced tomatoes and minced tomatoes . Cook for 2 minutes. The sauce will be chunky.
4. Add the green olives, black olives and capers to the sauce and simmer, stirring occasionally. Stir in the basil leaves . Add sugar and pepper if desired
5. To style a festive Pasta Puttanesca
-Get half of the sauce and mix to the linguine.
– Arrange the linguine on the plate
– Decorate the top of the linguine with gourmet tuyo black and green olives, capers, Drained Contadina tomatoes, basil leaves and parmesan
6. To serve the festive Pasta Puttanesca
– Prepare a bowl of the remaining pasta sauce for additional sauce
– Add a bowl of parmesan cheese
– a plate of gourmet tuyo slices.
Doesn't it look festive? The gourmet tuyo makes it  so Pinoy. A dash of green and reds for added color during the noche buena.   It is good to stack on Contadina products like the pasta, olive oil  and diced tomatoes just in case you have unexpected guests . Such a  flavorful meal that's easy to make in just a few minutes . You can never go wrong.
Don't forget to add  a glass of red wine .
For more information on Contadina, visit their Facebook page, Contadina Philippines and their official website http://www.contadina.com.ph