KANTAR media study show Filipinos' love for eating out. 
I am one of the many Filipinos who eat out and share photos on social media. I share them on instagram, twitter, or facebook . Why? Because I want to share my experience that there is this fabulous place for families to dine out or a place to have a date.
This was proven through Kantar Media new study outlining that at least seven out of ten Filipinos love to eat out with families and friends and post pictures on social media boosting advertisement for restaurants and food brands. Look what I just posted a few days ago. A sunday lunch at the iconic Mario's Restaurant 
When I share in social media, it is not advertising. I just like to share that this place is good and you might want to try it out too.
The study showed that at least 72 million Filipinos regularly enjoy eating out with families and friends. Of this number, 20 million live in Mega Manila. I think this shows Metro Manila also has a lot of food establishment and lots of savvy social media users.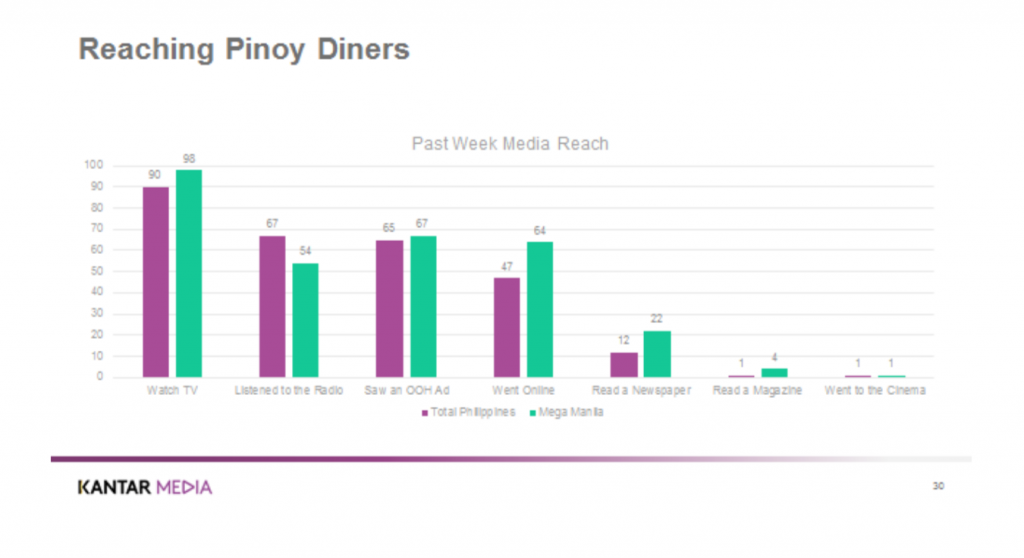 Jay Bautista, managing director of Kantar Media in the Philippines, said "Television continues to dominate the media landscape with the highest reach of 98 per cent to Filipino diners in Metro Manila and 90 per cent reach across the Philippines."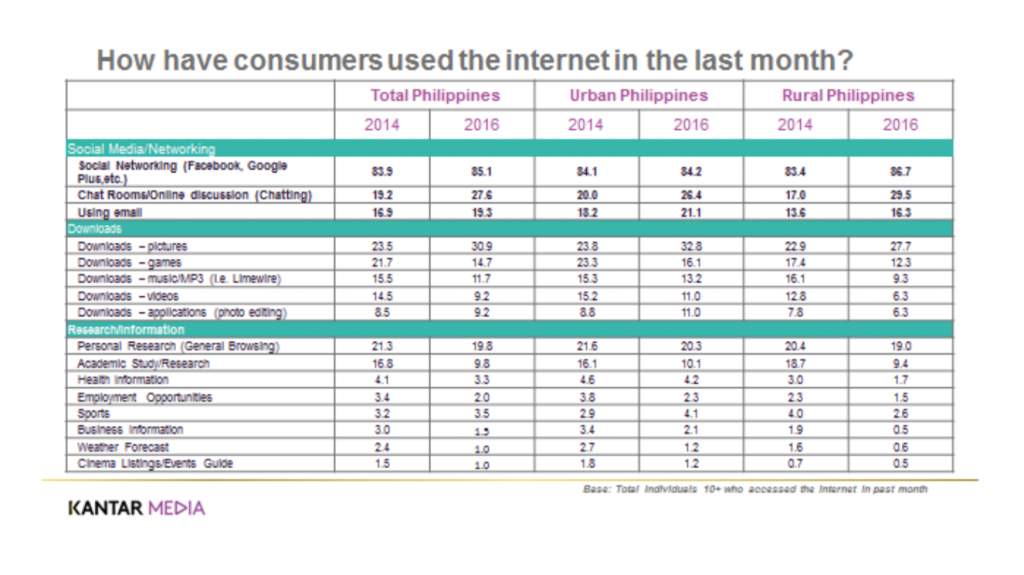 Billboards or Out of Home advertisements (OOH) followed in terms of advertising reach to Filipino diners at 67 per cent in Metro Manila and 64 per cent across the country.
The sharp rise in the internet use also boosts advertisements of restaurants and food businesses with 64 per cent reach for Filipino diners in Metro Manila and 47 per cent in the Philippines.
It is not surprising that print media influence on Filipino diners declined tremendously with only 1 per cent reach for Magazines and 22 per cent for Newspapers both in Metro Manila. The cinema reach for Filipino diners was at the lowest 1 per cent both in Metro Manila and across the country.
"There is a unique shift in media evolution with platforms complementing each other," said Bautista in a statement.
"Television is going digital while radio is evolving, billboards or the Out of Home advertising remains relevant and internet has grown social media users."
As the study showed, the shift to social media for advertising has grown.
Kantar Media study also highlighted the increase in use of social media channels at 85.1 per cent in 2016 from 83.9 per cent in 2014.
The increase in social media use particularly Facebook and Google chat is even higher in the provinces at 86.7 per cent in 2016 from 83.4 in 2014 compared with social media users in the cities at 84.2 per cent in 2016 from 84.1 per cent in 2014.
Bautista commented, "Young urban Filipinos aged between 10 to 19 years of age are the heaviest users of social media at 80 per cent, followed by the millennials aged between 20 to 29 years old with 70 per cent users of internet.
Well, I am not in the usual bracket of heavy social media users but I share a lot and so do my friends.